Back in mid 2010 when I wrote for Business Spectator, I compiled a column on the turning point in Australian housing and the likely shape of the coming bust:
This column concludes that the RBA has busted the first home-buyer bailout bubble, as it should. Now, we will see just how strong supply and demand fundamentals really are. This column expects a rerun of Sydney 2003 gone national: a fringe bust in all major capitals stalling the move-up ladder and flat-lining inner city prices. Not catastrophic unless global growth also hits commodity prices and wholesale bank rates climb.
The conclusion was drawn from both research and personal experience. The research was a part of writing the book The Great Crash of 2008 with Ross Garnaut. The personal experience was watching the gob-smacking buyers panic that siezed Melbourne in 2009. Both offered the identical conclusions: that when you entice buyers into a market with a First Home Owner's Grant (FHOG) you get a huge rush for previously affordable outer suburban property. Prices spike almost instantly. Those who sell shift closer in to the city with their unexpectedly fat pile of equity. And so on and so forth as a wave of property buyers and price rises sweeps inwards.
What happened after that in Sydney 2003, of course, is that the outer suburbs that inflated first, deflate when the subsidy is removed. Those who bought houses at goosed prices, and stretched themselves in doing so, are under water with negative equity. The move-up ladder of first home buyers seeking to get closer to the city suddenly stalls because those holding new properties in outer suburbs can't sell. Inner city prices stall.
Evidence for the thesis that this pattern is now playing itself out nationally comes today from the Fitch Australian Mortgage Delinquency by Postcode report. First to the home of FHOG bust, Sydney: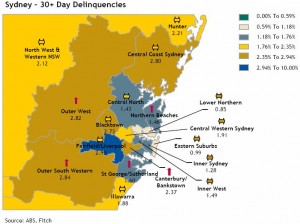 Next, to Melbourne, which is earlier in the cycle: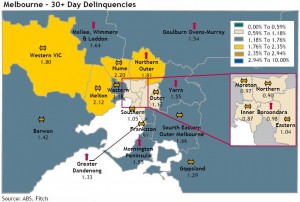 And Brisbane, which is further along: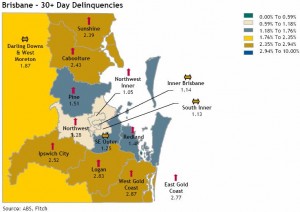 Similar patterms, though less obvious are apparent in Adelaide and Perth.
So, is that the end of it? No. There's another pattern this time around. The Fitch report also paints a clear picture of distress in holiday home districts. Around Sydney, it's the Central Coast stretching up to Nelson Bay, the Blue Mountains and Kangaroo Valley, all red hot Sydneysider getaways. In Brisbane, as we know, it's the Goldie and Sunshine Coasts. In Perth, it's the popular South Western tourism region that takes in substantial "coastal unrbanisation", according to Fitch. The arrears in Melbourne's holiday home regions are still decent but I know from experience that prices are under pressure in Barwon and the Mornington Peninsula. Melbourne will catch up.
All of these are no doubt partly a result of the depressed tourism sector but I'd go further. These regions are all the concentrations of baby-boomer retirement plans. Plans which seem to have changed.
So, what's it going to take to turn this around? In 2003, national unemployment was 6% as we entered commodity boom round one. Today it's 4.9% and the terms of trade are much, much higher. In 2003, interest rates didn't budge for almost a year and a half from the late 2003 hikes that triggered the bust. Then they only rose .25% in the subsequent year. And we had none of the post-GFC caution about debt that is at large now. The RBA has shown a willingness to take into account the suffering housing market and services economy this time around, but it has less room to move.
Even with this support, in 2003, Sydney went sideways and down for five years: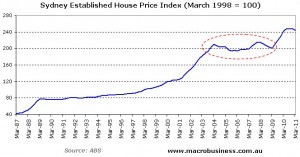 I wouldn't buy a property I wasn't going to live in for some considerable time now unless you paid me.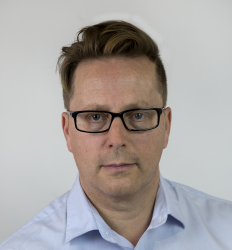 Latest posts by Houses and Holes
(see all)