This week's Spotlight will be on a company I believe is probably the best listed stock on the ASX – Cochlear Ltd (COH). Not only is it a great performer, with sound management and excellent returns for shareholders, it is an innovative company that should be a template for how our economy should present itself to the world, given the restraints we have as a small nation. Countries can be evaluated on their strengths like individual businesses – where is Australia's durable competitive advantage in the world today? It cannot continue to be houses and holes.
____________________________________________________________________________
The Business

Cochlear Limited (COH) is a manufacturer and marketer of cochlear implants which are used to stimulate impaired hearing.
COH has a 65-70% global market share of implants, with substantial growth potential in developing markets and continued penetration in developed markets.
Financials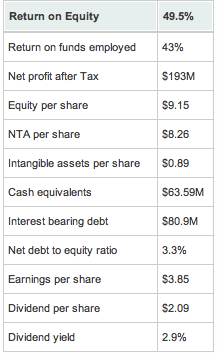 COH has extremely high operating cash flow. Normalised Return on Equity (NROE) is very consistent and is only slightly declining, given the substantial increase in equity over the last five years. Return on Funds Employed (ROFE) is a very high 42%, an indication of very good use of debt. COH's use of debt is modest, with current net debt to equity ratio at less than 30%.
As a technology company, it is no surprise that COH has a high level of intangible assets. However, these intangibles are outweighed by significant net tangibles and indeed provide economic goodwill evidenced by a very high NROE for a $400 million company.
Reinvestment of capital is always a concern for technology-based companies that must use a fixed or sometimes growing proportion of retained equity in capital expenditure on R&D. COH currently spends about a third of retained profits on R&D – however, this has so far been very beneficial with new products – e.g. the Nucleus 5 implant – becoming profitable very quickly. This is a continued and repetitive good use of retained equity.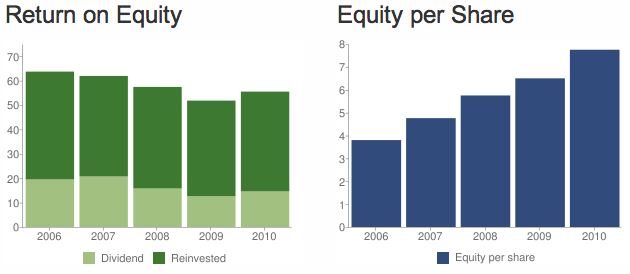 COH does not rely on business cycles, commodity prices or other cyclical factors as part of its business model. Although expensive, the implants are usually paid by private health insurance, or heavily subsidised by public health plans. COH has stated they cannot meet current demand as future demand grows, particularly in developing markets. This bodes well for future profitability.
Overall, COH's balance sheet and financials are very sound, able to cope with any shocks, or expand via acquisitions or continued organic growth. The only concerns are the declining NROE (due to business maturity) and the effects of the AUD/USD exchange rate on profitability.
Management
Management's performance is reflected in high, sustained NROE, very little acquisition activity and a strong retention of capital, with only minor dilution due to dividend re-investment plans.
However, remuneration is share option based, although not excessive. Further, incremental NROE has declined which implies a higher dividend payout would be prudent, although the retention of cash and a reduced debt-to-equity ratio implies that management have been very skilled at riding out the waves of the GFC.
COH continues to have a great management team with excellent capital management. A move away from share options that dilute company equity and can provide perverse incentives (although this has not been the case here) would solidify their position as Corporate Australia's best team.
Key Risks and Opportunities

Has a well-established and trusted brand name for superior goods and technology
Recipients of implants are either non-price sensitive or paid for by others (charity/government)
Increasing customer base that COH cannot keep up supply
A strong and continued focus on R&D that pays benefits
Continued AUD/USD and AUD/EUD appreciation, where in total, over 80% of company revenue is sourced, has an adverse impact on revenue
Competitors may produce a better technology, which requires COH to maintain a very high amount of capital investment in Research and Development
Government intervention in expensive health care costs could force COH to reduce prices and affect profitability
Climbing the Ladder to the top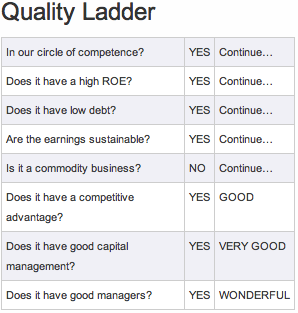 COH is considered a "Wonderful" company due to its sizeable competitive advantage – a superior, price-setting product with large demand – its excellent financials, capital management and management team. A top grade is only out of its grasp due to the exchange rate risk and the ever present sovereign/legislative risk that surrounds the fettered healthcare market.
Valuation
Using an adjusted average Price/Earnings (PE) ratio of 23, and forecast NROE of approx. 48-55% (declining as equity per share increases) Empire values COH at $83 per share until the next earnings report (scheduled for early August). COH has a history of being "bid-up" by the market, with price/value convergences rare.
At a standard 10% discount for "Wonderful" companies, our maximum buy price would be $76 (i.e we would accumulate at any price below this level).
However, the foreign exchange risk implies purchasing COH shares at a slightly higher margin of safety, so we believe COH is excellent value at any price below $73. Cochlear recently closed below this level, and is currently trading at $72.12
Disclosure: The author is a Director of a private investment company (Empire Investing Pty Ltd), which has an interest in the business mentioned in this article. The author also has a sizeable stake in his family's super fund and will purchase more in the future. The article is not to be taken as investment advice and the views expressed are opinions only. Readers should seek advice from someone who claims to be qualified before considering allocating capital in any investment.
Latest posts by Chris Becker
(see all)