Today the ABS released its quarterly Labour Force Survey – Detailed for May. I've broken it up into a series of sectoral charts by full time jobs below. Each says it ends in March but it don't. Each ends in May, damnit.
First up, let's look at the growing sectors. Top of the pops is, of course, mining: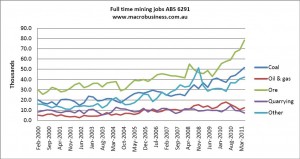 I was a little surpised to find that coal and ore are the parts of Futureboom! that are already here. Oil and gas has certainly grown in the past decade but shows little sign of an explosive takeoff as yet. I guess that lies ahead.
Next up is utilities. Perhaps no surprise here either, with the electrcity sector powering ahead, if you'll pardon the pun. If the 2011 Garnaut Report is anything to go by, this is largely driven by new investments in distribution networks. For water, I imagine it is related to the many climate related initiatives underway, including desal plants all over.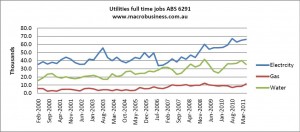 Third place goes to Science, Professional and Technical services. This category includes lawyers, accountants and engineers. Since 2004, there's been a nice upwards trajectory with the addition of perhaps 120k new positions. However, given this grouping is the one that is most often cited as evidence of the spreading of the mining boom, I'd say that's pretty bloody disappointing. Computer services are humming along and look pretty recession proof.

Fourth is construction. And here we have another unequivocal boom in jobs. The Services category includes contractors so some of this growth is certain to be a reshuffling of full time positions from within firms.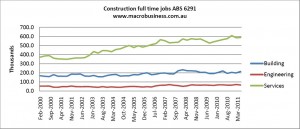 Next on the success list is Finance and Realty. We should really include these in the public sector jobs given the Politico-housing complex, and you see what being protected can do for your job security. Didn't we have a GFC around banks a few years back? It appears too that the same event was just hiccup for your friendly neighbourhood realter.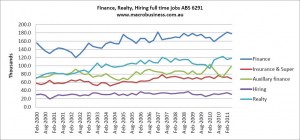 The next sector is, happily, education. Despite much publicised falls in enrolments, there appears to be no appreciable effect on employment anywhere, with good growth all over: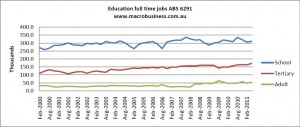 And now we come to the less saguine sectors. Administration jobs have a nice up trend but it appears being a cleaner really sucks when times are tough. The national pest problem is under control.

Next on the sad decline list is food and accomodation services. We might take this as a proxy for tourism but it also includes dining. I'd describe this as stagnant, add population growth and it's going backwards at a good clip.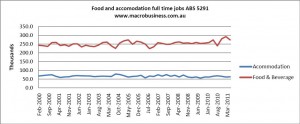 Much the same is apparent in Wholesale Trade, except in the machinery space, which we can guess is supplying something out west.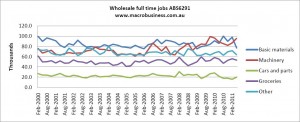 Likewise retail. Everything here is flat or falling, which is good, we spend too much on stuff for our productive capacity.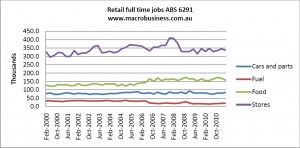 Transport is faring badly too. That recent rolling over in everything except road doesn't bode well: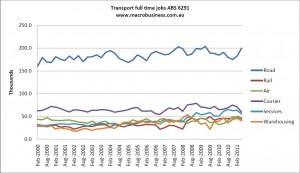 Telcos, media and IT are all stuffed. The internet appears to be going out business completely. Or, at least, fully automating: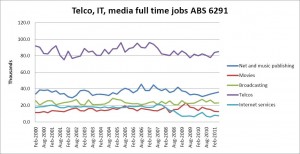 Finally, scraping the bottom of the barrel, we find the long suffering and plainly targeted for destruction manufacturers. With the exception of metals processing and food, it's just melting away. Bye, bye!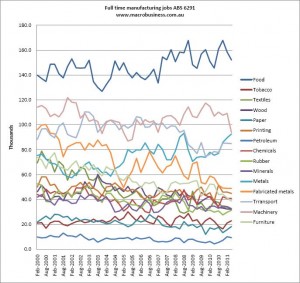 So, in total what can we conclude? First and formost, buy your kids a hard hat. Second, the boom is not spreading as much as authorities would have you think (not in full time jobs anyways). Third, we have Dutch Disease in manufacturing and tourism but seemingly not in education. Fourth, most of the services sector is flat or falling. Fifth, I reckon we're still much better off with the boom than without. The rebalancing away from consumption related jobs and towards productive sectors is good, and sectors such Finance, Realty, Wholesale and Retail would be in deep trouble without the support to incomes coming from the boom.
In total, I conclude that Dutch Disease is not as bad as I thought but neither is mining's Futureboom! as widespread as we're told.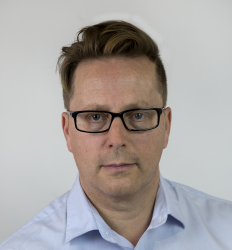 Latest posts by Houses and Holes
(see all)