The S&P/ASX 200 is down but slowly recovering at 4740 points after last nights shock fall in commodity markets (oil down 10% alone, AUD/USD down to 1.05)
Short term price action resembles a decelerating downtrend (note red curve under low points in last week on chart below). The index (XJO) is hovering above its 260 day moving average (my preferred long term average).
The major trend and support line is 4700 points – a close below this area would be a clear sell/short zone for the index as the correction continues. The current pause – on the back of good bank earnings and a reversal in AUD strength could turn out to be a a bounce only.
Internal scans of ASX100 constituents show lots of bottoming and intra-day resilience – don't look into this too closely just yet – but considering the hammering commodities had, resources are doing well, and the big four banks are up, alongside a breakout in Telstra's long running bearish trend.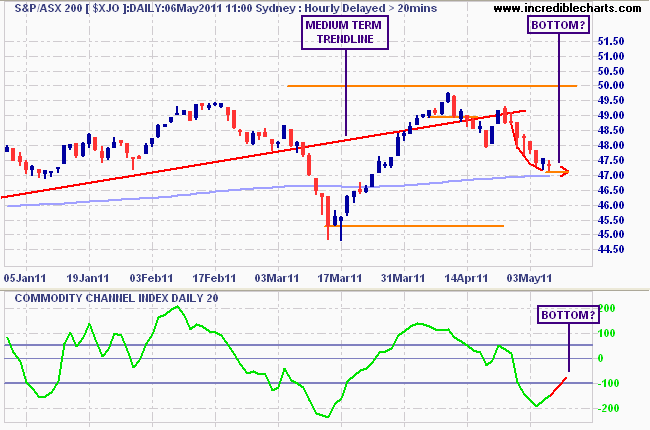 Download the full report here: Trading Day 6th May: PDF
Latest posts by Chris Becker
(see all)