The S&P/ASX 200 is down over 1% this afternoon, continuing the second leg of a correction that began in early April (down over 7%). Asian markets are also down, with the Nikkei down 0.6%, the Hang Seng 1% and Singapore 0.7%. The AUD is down to 1.05 against the USD, and 85 against the Yen (which is highly correlated with the ASX200)
My buy zone theory was wrong, as it looks like overseas markets – where the Aussie takes it lead – are weakening as QE2 begins its last month. The drop below the critical 4700 support level means the next target zone is around 4500 points – or a 10% correction from the April highs.
The pattern on the weekly charts is eerily similar to the May 2010 correction. A double top formation after hitting resistance at 5000 points – any further weakness of overseas markets could see an overshoot of the correction to 4200 points.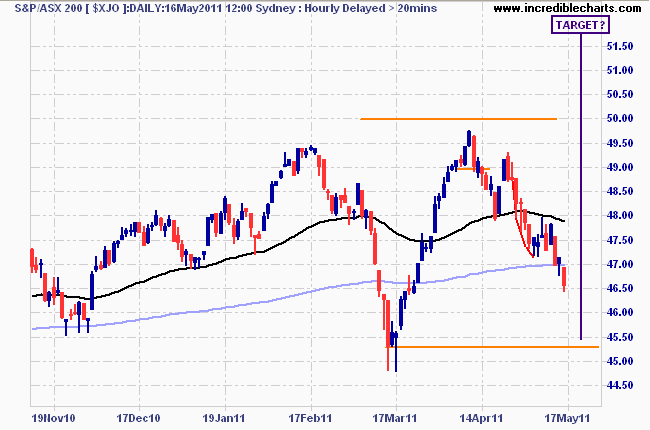 Latest posts by Chris Becker
(see all)