The ABS has today released its quarterly Average Weekly Earnings.
Like the Wage Cost Index yesterday, wages are not accelerating and in fact, in this measure, in the big employment sectors of Retail Trade, Accommodation, Food Services and Admin Services they actually went backwards. Health care which is another big employer was up only 0.5% while mining and associated industries were up just 1%.
Overall it is a picture of decelerating wage gains not accelerating: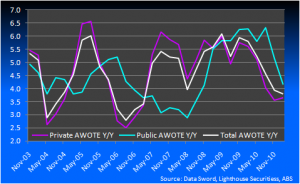 Private sector earnings growth is up very marginally but is more that offset by declines in public sector earnings. The history of the trend hints that private sector earnings growth could accelerate from here but it's very early.
In addition, private wages are well below their decade average: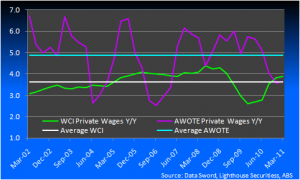 The RBA has time on its side.