The total number of people employed in Australia fell by 22,119 in April.
 
This is the third time in the past 5 months we have seen the total number of people employed in Australia fall. Yes, that's right, the 3rd time in 5 months.
 
The market was looking for a gain of 17,000 jobs. The fall of 22,119 was driven by a 49,060 in full time jobs while part time rose by 26,941.  However there was still real job losses in excess of 22,000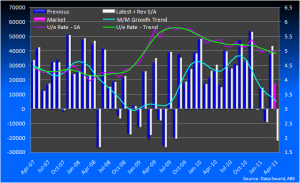 Sadly, we can't do a sectoral breakdown until next month but for now there's no real surpise that the weakness is clearly in the services economy states of NSW (down 22,000) and VIC (down 17,000). The mining states held up better: QLD (down 4,000), SA (up 1,000) and WA (down 4,000).
Importantly after adding over 428,000 jobs in the 12 months to November 2010, jobs growth over the past 5 months has totaled 25,500.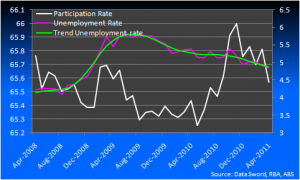 Hours worked were also down over the month.  
 
God knows what the bullhawks (Joye, Bloxham, Carr) will make of this data but it clearly is not an economy headed into a capacity contrained boom. It is an economy in adjustment. There's no saying that that will be smooth, nor that using big macro tools like interest rates and the currnecy won't result in big overshoots, most especially when trying to juggle that huge household debt.
You can forget a June rise on this data.