See the latest Australian dollar analysis here: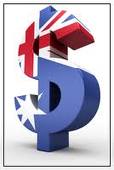 This chart is the USD Index since 1990 and while I and others might be saying that it has "turned" or "based" the long term reality is that this is a curency that is very weak still. Indeed in the past 5 years it has been trapped in the bottom third of its decade long range. Since the low in 2008 it has been unable to break up through the 38.2% retracement level of the 2002-2008 downmove. So if it is turning this is a monumental move for global markets given its linkage into other asset and commodity prices.
But I'm not getting overly bullish the USD at the moment even if I think this might be an important turning point in what is essentially a multi-year trading range because "their is much wood to chop". This is particularly so we we look at the recent daily charts.

This chart represents the daily price action of the USD Index for the past year, the down trend is clear. It has broken this years downtrend and retested the line which is a good sign for the bulls but the overall downtrend resistance looms large at 77.13 and the MACD's are getting "frothy" by my reading. A weekly close at current levels is good news because it is back above the breakdown level from March's selloff.
The current price is just below the 38.2% retracement of this years selloff at 75.988 with the 50% in line with the downtrend line. My sense is a test of the downtrend line is in the offing and then we'll see from there.
Why so much time on the USD in the Australian Dollar Weekly Wrap? Because it is one of our the key inputs in our 5 driver model and has a feedback loop via the commodity markets and prices into expectations about the Aussie and our economic and investment fundamentals.
So the USD looks to me be basing and will be testing significant short term resistance in the next week which will accord with Aussie testing support at 1.05, 1.0440/50 and then ultimately 1.0359 which is the 50% retracement of the .9706 – 1.1013 move. Buyers are suggesting they'll be back in at these lower levels but it just depends on what is happening in other markets and how the interplay of our 5 drivers is working out. I think we'll get to find out in the next week or so.
Disclaimer: This post is not advice or a recommendation to buy or sell. We have not taken your specific circumstances into account. Do your own research and consult an adviser before allocating capital or undertaking hedges.