See the latest Australian dollar analysis here: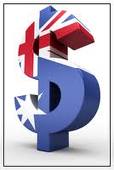 Those of you not heavily involved in currency markets probably wonder about their stability after a week where the Aussie made post float high at 1.1013 and then promptly fell to a low of 1.0537 before closing at 1.07. But that is life in currency land and it wasn't just the Aussie that saw such volatility.
Many currencies and commodities fell hevily against the USD as it seemed that the death of OBL gave the USD a lift across the board. Oil fell $10 bbl at one stage during the week and reports that Greece might drop the EUR saw the single currency close the week at 1.4316 after a high during the week of 1.4943, down 4.21%.
So it was a week were the USD found some support but individual country and currency specific factors also helped.
On the Aussie the serendipitous combination of techncals and a stretched fundamental envelope saw it reject the 1.1014 region I identified earlier in the week.  So at the end of a tumultuos week it is worth updating my view on the AUD after some fortuitous timing earlier in the week to call the ding dong high and because my first target of a move to 1.07 was achieved so easily.
First of all it is important to say that based on the technicals the AUD should be heading all the way back to where this move started at 1.0443 but it needs to close below 1.0580/85 to signal a much deeper move.
Lets look at the hourly chart first.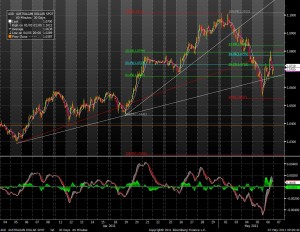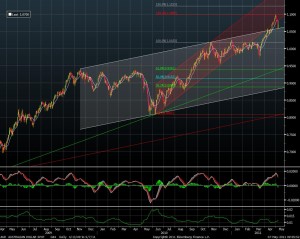 In the short term this daily chart shows that a close below 1.0580/85 will open the way for a deeper move inside the old up channel. Importantly for those of us with a Fibonacci bent the high this week was only 30 points through the 138.2% projection of the June-November 2010 move before the months of consolidation which reinforces this zone as a top.
It's been a big week, an all time high at significant resistance and an almost 5 cent pullback in the space of 4 days. It would be usual for the market to bounce a little and consolidate. Overall I expect a move toward 1.0440 to retrace this entire recent up leg and then we'll have a look there.
If Tim Riddell is right about the USD and the technicals give room for this then we could see a move into the 1.01/2 region where very solid support will likely exist given the still strong 5 drivers. Equally as we saw overnight it might be time for Aussie rotation and strength against the non-Yen crosses as the USD appreciates.