See the latest Australian dollar analysis here:
If I was forced to trade today and I could only bet on the next 3 cent move, I'd put my money on the Aussie seeing 1.07 before 1.13. This view is based on my view of the technicals, the fact the Aussie feels like a crowded trade and Bloomberg TV seems to want to cover it every half hour today. Perhaps not solid fundamental analysis but for those of us who trade and invest for a living, there is one thing we usually hold true – that is, technicals ARE fundamental.
Technical trading indicators are one of the key inputs in our 5 Drivers model. How you use them and the weighting you place on them in your analysis depends on the time frame being looked at. I know that many people think of technical analysis in the realm of astrology. My own experience, together with studies I've seen, suggest that they work.
Now it is important at the outset to note that there are a number of different indicators and methods for technical trading. My personal proclivity is to never make an investment decision, give advice or strategise, without looking at my charts first. I have a fairly simple "technical toolkit" that I use it suits my personaility and trading style.
Specifically, while I draw on many inputs like Elliott Wave and Donchian Break out systems I am at heart a Fibonacci guy. So my key indicators are:
Fibonacci Retracements and Projections
Trendlines
3 Moving Averages
MACD's (Moving Average Convergence Divergence)
Average True Range for placing stop losses and position sizing and
Japanese Candle Sticks as representations of market price action – these really visualise what has occured in each time frame (bar) extremely well.
As a tip when trading and investing the key thing to do is match your indicators, timeframe and position sizing to your personaility and goals. The worst thing that happens is when you get your timeframes mixed up. Most traderes get killed when that happens.
The charts attached below I hope will help you understand the process I use when looking at technicals.
Now, obviously the quality of your analysis is what is going to make you, or save you, the most money. But it is important to build up a picture of the market you are in. As Jesse Livermore said in "Reminiscence of a Stockbroker"
I think it was a long step forward in my trading education when I realised at last that when old Mr Partridge kept on telling other customers, "Well, you know this is a bull market!" he really meant to tell them that the big money was not in the individual fluctuations but in the main movements-that is, not in reading the tape but in sizing up the entire market and its trend. 
In order to know what market you are in you have to build up a multi-timeframe of the market. To do that I start with really long term charts and end up down at the hourlies.
So let's have a look.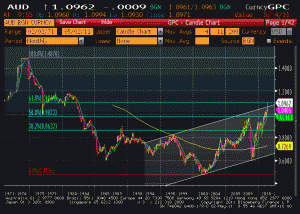 The chart above is the AUD/USD monthly since 1971. It is clear that the period of the Aussie's downtrend is behind us and has been for some time. Since that low of .4776 on April 19th 2001 we have been in an uptrend. So we are in a BULL market. We are outside the top of this trend channel so I'm automatically thinking it might be a little over cooked.
I then use my Fibonacci (Fibo) retracement levels  to look for "natural" levels that AUD might meet resitance at. The levels I, and most Fibo traders, utilise are the 38.2%, 50% and 61.8% levels.
For those who don't know much about the  Fibonacci sequence its fairly easy to google but essentially its all about the relationships between the numbers in the series. 1,1,2,3,5,8,13,21,34,55,89 and so on. Each number is the product of the previous two numbers, and following number move in fixed ratios agains the ones previously. It's a great sequence that appears as ratios all through nature. So for me there are "natural" levels of support and resistance.
But with this specific chart the key level is the 61.8% retracement which was, not coincidentally, 1 tick off the high this morning of 1.1013. We are having a selloff as I write and the Aussie is back at 1.0929 since I started this blog.
So we know we are in a long term bull market but we have probably hit very important resistance with the Aussie both outside the trend and hitting big Fibo resistance.
Let's look at the weekly charts then.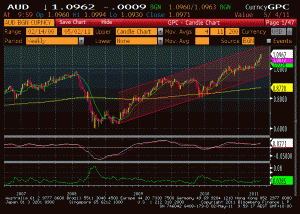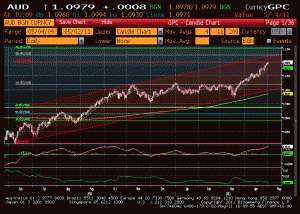 Like the weeklies, the Aussie's daily uptrend still has room to the upside but equally is very broad and even a deep pullback all the way to 1.00 would not threaten this uptrend. Fibo resitance, for the June to October 2010 rally before the period of consoilidation, comes in at the 138.2% region is/was 1.0985. Not far away from my long term monthly level which reinforces this zone to me as a key hurdle.
Equally, on this daily you will see that the MACD is at a level consistent with a slowdown in the pace of appreciation at best and what seems more likely given the build up of long and medium term resistance around the 1.10 level a pullback.
If I was trading, I'd then go to my hourlie chart to see what I thought on the day. But I'll leave that aside for another day.
So on the basis of this analysis I'd conclude, just on the technicals alone that the Aussie has some stiff headwinds and is probably due for a consolidation or pullback. Today's rejection of 1.10 when I started to write this blog could be the start of a move to consolidate, whether price or time.
But the key is that the AUD is in a long term uptrend. There is nothing in these trends that suggest anything other than we will see higher levels in the next year or more. So my $1,000 feels safe for the moment but longer term I wouldn't be betting too heavily against the Aussie on a technical basis. Not yet anyway, the charts just don't support it.
Disclosure: This post is not advice or a recommendation to buy or sell. Do your own research and consult an adviser before allocating capital.