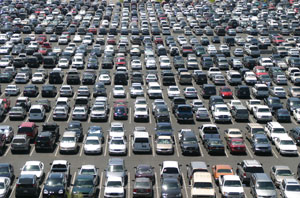 Adam Carr won't be happy. He's relied on growing car sales in part to rationalise his intense campaign for rate hikes. Westpac has just released a note on the April sales figures from the Federal Chamber of Automotive Industries and it's into reverse I'm afraid:
Westpac Economic update

Australia: new vehicle sales down 4.5% in April, partly as insurance-funded replacement buying wanes but also suggesting soft underlying conditions

Raw figures from the FCAI released today show a very weak sales result in April.
We estimate that the unadjusted figures are consistent with a seasonally adjusted monthly fall of about 4.5%, with sales down 9% on a year ago.

The size of the monthly decline is being exaggerated by a wind-down in insurance-funded replacement buying related to the severe weather events earlier in the year.
This had driven a 3.4% rise in March.

However, the April fall more than reverses this gain and suggests underlying conditions are soft, particularly for consumer-led segments – passenger and SUV sales pushed to new lows (see chart 2).
This is also backed up by the state detail which shows the most pronounced weakness is in sales ex Qld.
Any impact from the Japanese tsunami would probably have been minor in April, with scope to draw on existing inventories or delay delivery (the data records sales rather than deliveries/registrations).

Overall, the picture is not unduly weak but sales are softer than expected – lead indicators from the Westpac-Melbourne Institute Consumer Sentiment survey have been fairly upbeat, with responses on whether now was a 'good time to buy a car' suggesting consolidation rather than declines. It may be that this is reflecting the high AUD and associated reductions in the cost of vehicles rather than genuine intentions to purchase.
As I said earlier this week and last week. Car sales were distorted by flood replacements. Back to the real trend: weak. Bravo RBA.