The saturday morning ritual of moving the yard apes between their various activities is over so it time to sit back for an afternoon of musings.
Firstly, after yesterday's little bomb drop from NAB on housing I note that Bill Evans from Westpac has joined in (h/t janet) with a bearish post on Business Spectator.
A sustained relaxation and an associated return to rising house prices, stronger credit growth, and a consumer much more confident in their finances is unlikely without further balance sheet consolidation. That takes time and brings with it the risk of further weakness for consumer demand and the housing market.
Yesterday we also had a visit from Stormboy who left the following comment.
I am a lender with a one of the big four and based in Qld. I can tell you that lending is very quiet here in Brissy. This time last year was one of the busiest periods we had in the last eight. We achieved 125% of our half year target (which ends on the 31st of March). This year we reached 67%. That is almost 50% less than 12mths ago. Lending is down in NSW, Vic and SA. However it is WA and Qld that impacted the most. They have already let go of over 20 corporate staff and if business lending is doing well it is not here in Qld, speak to the commercial bankers everyday and they have never seen it so quiet. We are also loosening lending policy almost back to 2007 levels and some of our biggest interest rate discounts and still no real uplift. Valuations are coming considerably lower than 12 mths ago and this seriously effecting our ability to get loans approved.

…  The valutions are down for the whole market from million dollar homes to small homes in the outer burbs. We have three real estate agents who are in serious financial difficulty and the bank is doing everything it can to keep arrears levels low. The slow down became most evident just before Christmas and has gotten worse in last three weeks with a small uptick this week. I have been in banking and this company since 1989 and this is much worse than the slow down in 2008.
So it seems that housing is looking pretty bad on the ground all the way up to the ivory towers of banking. Which brings me to my musings of today. I get asked quite often on this blog and also via e-mail the question "Is housing going to crash?". 
But how do I answer this ? What is a "crash"? How is it different to a "collapse"? How about a "fall"?
Is a fall of 50% at the top end of housing  in a certain area a "crash"? 
Is a 20% fall across the board in an entire town a crash ?
Is a 9% fall in a capital city a crash ?
Is the sales volume of a capital city being so low that it makes a decade ago look good a crash?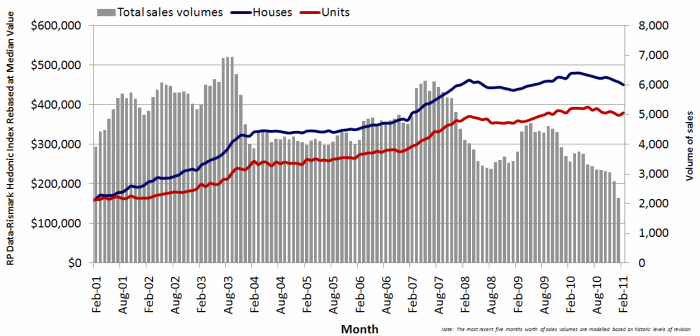 Or are these just falls? Do we need a bank to fail before we call it a crash? What are the prerequisites you need to see before you say "Yep.. that is a crash" ?
I don't know, but without a definition it is impossible to answer the question. So if you have an opinion of what a crash is then let me know. Maybe we can come to some sort of consensus on this.