Note: anything in quotation marks is a reference to earlier notes that I've made. These comments are read in context of an investor/trader with a medium term timeframe.

The S&P/ASX200 Index (and others)
Its green across the board: all stocks, futures and commodities are up and gold has surpassed $US1500 and change – but paradoxically it makes a great time for Australian buyers to step in. I'll be posting on how Australian's can hedge and possibly profit from gold (using ETF's and other vehicles) over the Easter break.
The S&P/ASX200 is back to its medium term trendline after closing yesterday above the down channel I drew on yesterdays chart.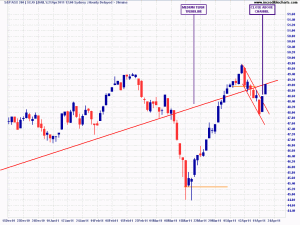 At this rate, the 5000 level could be breached post Easter or when most of Australia is watching some bloke marry some sheila over in England (and another four day weekend – at this rate, your poor trader will never get any work done. I hate public holidays – it means the stock exchange is closed. Thank Dog for 24 hour gold and FX markets….)
Support and Small Caps
This section on MacroBusiness is small, but slowly growing – thanks for your support. I'm going to add Small Caps starting from after Easter (basically my daily scan of the ASX Small Ordinaries Index – companies that are in the ASX300, but not the ASX100. This is one of the best spaces for outperformance, as there are not many superstars in the Top 100 – except my favourites.)
Also watch for my end of week analysis – I may also add some notes here about Small Caps I'm following, as part of my overall analysis of the Australian markets (plus gold and few others I watch).
Winners – well, pretty much everything
Coca Cola Amatil (CCL): "Resistance above $12 may be the killer" -not today my friends – above $12.15 at midday and looks like a clear breakout.

CBA : "Lots of institutional and retail punter support for the "market leader" in Ponzi finance" up on weak volume (expected around Easter – not for this little Black Swan) but struggling to get past $53. Hmmm…

Crown (CWN): up almost 1% but still hasn't broken through $8.50 for new trend to resume.

David Jones (DJS): up almost 1%.

Fairfax Media(FXJ) "remains in medium term downtrend – but is consolidating for a possible up-move" – indeed, breakout this morning: good short term trade here. Next level of resistance is $1.41 or so.

NAB : "Could be one to re-enter if this dip reverses" – and so on and so forth. Up and out of the park – almost 1%, but the pattern is very bullish. Remember, the consensus remains the banks are fine, the banks are great, the banks are cheap.

Tabcorp (TAH): "I love it when a plan comes together." – ahem, up over 1% this morning (although looks toppy – could drop before the close or back next week).

Telecom (TEL): ended up closing 4% higher yesterday, but down almost 2% today – the infamous "profit takers"? Tighten stops if still long.

WBC : "Short term price behavior supports an ongoing trend thesis" – gapped up on the open by over 1% – daylight above now. Banks, banks, banks.

Wesfarmers : (WES) up another 1.4% today, nice.

Worleyparsons (WOR): "the medium term (November 2010 to now) trend is still well in place" – up almost 1%, resuming its trend.
Avoid
AMP: "I think this is a pause in AMP's reflation pattern. Wait" up 0.4% like everything else. My medium term system is staying the course, but short term its still in a holding pattern.

ANZ : opposite to AMP above (medium sideways, short term long), but I want to see another close above the 15 day moving average before getting directional long.

ASX No reason to get excited – can't get that damn song out of my head for days now – news of the ASX going to 100 lots per option contract may increase trading volumes, if not revenue, but too early to tell.

BHP-Billiton (BHP) "we need a breakout beyond $49.50 for the whole index to get past the magical 5000 level" check out the chart below – reverting back to medium term trend line (based on QE continuing)

Boral (BLD): still in a trading range ($4.95 to $5.20) Wait for a breakout either side

Bluescope (BSL): "You really want to touch this?" – with the AUD starting to push for $1.10?? Could be a good contrarian play though.

Fortescue Metals (FMG): "sideways. No action yet" – up 3% this morning, could be start of something, but I still posit its in a sideways trend as it goes back to its oscillating point:


Harvey Norman (HVN): still trying to complete its bearish correction from October last year. Avoid.

Macquarie Group (MQG) "MQG could rebound sharply if a new rally takes off in the broader market" – up 0.5% this morning. Bloomberg and other newswires are reporting lots of good news for Straya and the AUD. The Down Under Squid will likely benefit from this flow….

QBE "QBE will struggle to get past resistance at $19 " – but it really really wants to – break out this morning, up over 1% but its still hitting resistance. I want to see another close above $19 before I go long.

Sonic Healthcare (SHL) Remember I said to get out of Sonic? I was right, but its coming back (hey you would have still made close to 20% on my short term system). Watch for a strong close above the previous high for possible re-entry.

TEN : Bugger, Channel Nine bought Paper Giants off the ABC. Hope it doesn't turn into that Underbelly vomitus…Oh the stock – steady and sideways, poor investment. etc ad nauseam.

Woolies (WOW): up nearly 1% today, but don't get too excited.
Losers
AGL Energy (AGK): "but still a poor contender" yep still in a downward trend, even if its up on the back of other stocks this morning. A reversal would occur if close above $14.50

Caltex (CTX): "Time to cover the short term downtrend, but not a time to invest" – still true: Caltex have warned about refining margins again.

CSR: "Tighten stops" – but still going down, 1% against a broad market uptrend – definite loser

Gunns (GNS) – EDIT: sorry folks, error in writing. GNS gapped on the open today, and rallied strongly from there. Time to cover shorts for traders.

Onesteel (OST): time to tighten stops or even cover and walk away into long positions in other highflyers, but like BSL unlikely to recover its price from here.

Suncorp (SUN) "early days yet, but a bottom might be in" – up almost 1% but this is still the dog of the banks. Upgrade to Avoid.

Westfield (WDC): "bouncing off support of $9, but likely to be in a trading range from here on." I'm half right (and yes half wrong) – the insto's are buying back in to WDC as the whole index goes up. Upgrade to Avoid.
Disclosure: The Prince is a full time equities trader, running a personal account. I may have positions (long and short) in some or all of the securities mentioned above. This post is not advice or a recommendation to buy or sell. Do your own research and consult an adviser before allocating capital.
Latest posts by Chris Becker (see all)