Note: anything in quotation marks is a reference to earlier notes that I've made. These comments are read in context of an investor/trader with a medium term timeframe.

The S&P/ASX200 Index – XJO
The S&P/ASX200 has fallen substantially this morning and continues into midday trading, hovering around 4800 points. This is now well below its 15 day moving average and about to go below the 50 day moving average. The market is by no means oversold, this dip could last longer, down to 4700 points or below.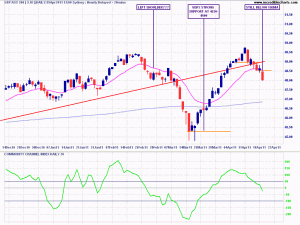 This is the sixth day of the dip – most small corrections only last a week at most within a medium term rally. If this weakness continues into the week, it could spark further falls moving into Easter. Remember to mark down 27th April in your calendars: the day The Bernank will likely announce the end of QE2. Sell in May and go away indeed.
Winners
Coca Cola Amatil (CCL): As I said, always invest in addictive consumer products (e.g AAPL) – CCL is down today, but hasn't broken its rising triangle pattern. Resistance above $12 may be the killer.

CBA : is now below its 7 day moving average during this dip, which is not encouraging. Lots of institutional and retail punter support for the "market leader" in Ponzi finance. The market dip has barely affected CBA's share price – BTFD?

Crown (CWN): no breakout yet – watch for close above $8.50 for new trend to resume.

David Jones (DJS): "No reason to get excited until you see a close past $4.80" – but this joker is still watching.

Tabcorp (TAH): "Nice little breakout trend developing here, but coming up to resistance at $7.70" – still upside potential for TAH.

Telecom (TEL): "what's going on here?" NBN style shenigans in UnZud. Had another good open today, want to see more momentum before joining the self fulfilling crowd.

WBC : like NAB, has brushed off the dip and well within its short term trend. Prices have been above resistance for over a week now, giving more and more weight to a new medium term trend.

Wesfarmers : (WES) although down slightly today, still trending up nicely on the back of WOW weakness.

Worleyparsons (WOR): "the medium term (November 2010 to now) trend is still well in place" – finding strong support at $31 brushing off this dip/correction/whatever.
Avoid
AMP: "no breakout yet, but looks like continuing accumulation pattern" -wrong, hit hard by traders this morning. Short term trend is over but medium term return to growth is not over yet.

ANZ : "Probability is bullish sideways" – reverting to mean trend/point of control at around $23.50.

ASX Now below value at $33, but still beware the value trap – (a bull trap for intelligent investors)

BHP-Billiton (BHP) "now come back down to a control/pivot point around $47 level" -down almost 2%, BHP is weighing on the index as the financials hold up stronger. I still contend we need a breakout beyond $49.50 for the whole index to get past the magical 5000 level.

Boral (BLD): down almost 3%, but within its trading range ($4.95 to $5.20) Wait for a breakout either side

Bluescope (BSL): "Finding support at $1.90" looks like found a bottom. Still not investment grade, avoid.

Fortescue Metals (FMG): slipping further – quick short traders could ride this to $5.80 or so, but if you still believe in the commodity story, FMG will rally from there.

NAB : "Out. Schnell." as I said late last week (I seem to pick tops better than bottoms…) but is going sideways now. Could be one to re-enter if this dip (lead by US earnings results) reverses. Still the cheapest of the big four according to the bullish consensus.

Origin Energy (ORG): "you did book those profits didn't you? Classic exhaustion top" – gapped down 1.77% this morning. Someone was listening. Stand aside for now.

QBE "QBE will struggle to get past resistance at $19 " now had a triple top and QBE is going sideways again. Too risky for my liking (3 words: Lenders Mortgage Insurance)

Sonic Healthcare (SHL): seven days in a row now – hitting resistance at $12.60 level. Slipping….

TEN : "coming up to resistance at $1.45-1.50" thats seven days now. "Tighten stops" – you should all be out by now, as TEN is still in a bearish sideways long term trend.

Woolies (WOW): still continues to disappoint. Has a reader has mentioned, WOW is at its lowest P/E ratio in quite some time – equity per share growth has surpassed share price growth for 3 years now. By any measure its cheap (Empire puts it at $30.50). Market continues to avoid, so should you for opportunity cost. Savvy traders can put on spread trades, or even covered calls. ETRADE tells me that they are moving to 100 shares per contract, instead of 1000, which should shake up the option market a bit.
Losers
AGL Energy (AGK): "still moving nowhere" – rebound rally has failed, I don't expect much upside from here. Down almost 1%.

Alumina (AWC): "could develop into a short today (traders have been riding it down for a week)" – absolutely, falling 2%. This liquid electricity stock has support around $2.20, but is still within a medium term uptrend.

Caltex (CTX): "I like this one!" – paying this week's rent nicely – down to support at $14, could bounce back a little.

CSR: "but prices still below support" and falling – down 2.5% with daylight below.

Fairfax Media(FXJ) remains in medium term downtrend – good time to add to shorts here.

Gunns (GNS) – ouch down nearly 6% today. I'm having a nice dinner tonight thankyou Mr Short.

Harvey Norman (HVN): trying to complete its bearish correction from October last year. Avoid.

Macquarie Group (MQG): down another 0.8% – might be time to cover this squid as support is heavy at $34.

Onesteel (OST): "don't fight the trend or the Carbon" – indeed. Down over 2.5% with daylight below. I think I'll have the steak.

Qantas (QAN): The Flying Kangaroo is still hopping/bouncing along. Investors stay clear as ever.

Suncorp (SUN) Below $8 is still my target sell zone. 4 words: Queensland Real Estate Nightmare.

Westfield (WDC): An this one means I'll have dessert tonight with my steak. Down to $9, about to hit support, but daylight below.
Disclosure: The Prince is a full time equities trader, running a personal account. I may have positions (long and short) in some or all of the securities mentioned above. This post is not advice or a recommendation to buy or sell. Do your own research and consult an adviser before allocating capital.
Latest posts by Chris Becker
(see all)