Yesterday's strong employment numbers from the ABS stoked an interesting debate in the comments about what degree of underemployment Australia suffers. To help the debate along I've drawn up the following table from the ABS Underemployed Workers report. It is annual only and from Spetember 2010
It clearly shows two things. First, that labour markets in mining, utilities and finance were tight. Second, labour markets in retail, tourism and administration were not.
To my mind this is also more fodder for the argument I've made before that the macroeconomic approach to addressing specific labour shortages has a serious flaw. People either don't want, or can't, retrain fast enough. So they remain underemployed. Targeted programs via immigration and subsidised training look like they could do a lot of good.
Another suggestion is that the ABS start doing this damn thing monthly.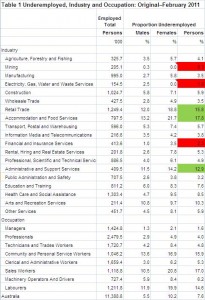 David Llewellyn-Smith is Chief Strategist at the MB Fund and MB Super. David is the founding publisher and editor of MacroBusiness and was the founding publisher and global economy editor of The Diplomat, the Asia Pacific's leading geo-politics and economics portal.

He is also a former gold trader and economic commentator at The Sydney Morning Herald, The Age, the ABC and Business Spectator. He is the co-author of The Great Crash of 2008 with Ross Garnaut and was the editor of the second Garnaut Climate Change Review.
Latest posts by David Llewellyn-Smith (see all)