The latest NAB "survey" of vested interests on what they hope is going to happen to the housing market is out as reported in yahoo finance. Even though it would seem that the chief of the bank has given up on housing others still seem to want to find the glass half full.
Survey Highlights:

National house prices are expected to remain flat over the next 12 months, with growth of only 0.6 per cent.
Rental expectations are however improving and this is driving up NAB's Residential Property Index.
The Index is expected to rise to 45 points over the next year, up from 12 points in the current quarter.
The index is expected to rise further to 74 points by March 2013, underpinned by stronger growth in both house prices and rents.
Investor interest in existing properties has remained stable, but there has been a sharp jump in the share of Australian investors in new residential property.
This may reflect changes to superannuation rules making it easier to hold property within self-managed super funds.

House price expectations were revised up slightly in the March quarter survey, but gains are expected to remain modest. Nationwide prices are tipped to increase by just 0.6% over the next year led by WA (1.1%), NSW/ACT (0.9%). Victoria & Tasmania (0.5%) and Queensland (0.1%). House prices in SA/NT are tipped to fall by 0.1%. Looking further ahead, house prices are expected to rise by 2.6% over the next two years. WA is still the best performing state (3.8%) and Victoria & Tasmania the worst (1.6%).

The outlook for rents has also improved. Nationwide rents are forecast to rise 3.5% in the next year and 5.2% by March 2013. The biggest gains in this period are forecast for WA and NSW/ACT. Rental expectations are weakest for SA/NT and Queensland.

Stronger price and rental expectations have boosted NAB's Residential Property Index. The Index is now expected to rise to 45 points over the next year (27 points in December). Improvements are forecast in all states, led by WA and Victoria & Tasmania. Queensland is expected to remain the weakest state, but conditions are expected to be much better than in our previous survey. The Index is expected to rise to 74 points by March 2013, with improvements forecast in all states.

Australian investors have become much more important in driving new residential developments. Resident investors are now expected to account for 33% of the market in the next 12 months (24% in December). This may reflect changes to superannuation rules making it easier to hold property within self-managed super funds

The strongest demand for new residential property remains in inner city housing, low rise and townhouses, where demand is classified as "good". Demand conditions for CBD apartments, middle/outer ring low rise, townhouses and apartments is assessed as "fair". Tight credit conditions are still seen as the main impediment to new residential developments, but housing affordability and rising interest rates are also identified as "significant" constraints.

In the existing property market, resident owner occupiers will continue to dominate demand over the next year, accounting for around 57% of sales. The share of Australian resident investors is expected to be much lower at just 20%. The best prospects for capital growth in existing property markets over the next year are in the sub-$500,000 category. The outlook for higher priced property is much weaker. Access to credit has replaced rising interest rates as the biggest impediment for purchasing existing property. Employment security and housing affordability are also seen as "significant" impediments.

Since April 2010, NAB has been conducting the Quarterly Australian Property Survey, with the aim of developing Australia's pre-eminent survey of market conditions in the Commercial and Residential Property market. The large external panel of respondents comprised of Real Estate Agents/Managers, Property Developers, Owners/Investors, Asset/Fund Managers and Valuers.
I must be living on a different planet to these people. I see no evidence to support any of this latest optimism and with RPData producing charts like the one below I simply can't see how these opinions are justified.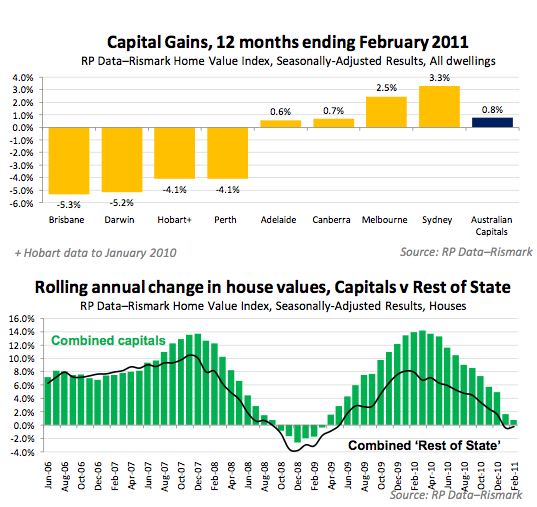 A different survey also reported today tells a slightly different economic story that may dampen that optimism somewhat.
Business executives expect sales to fall and softer employment conditions in the upcoming June quarter as they battle rising fuel prices and wages, and consumers keep their wallets firmly shut and instead pay off debt.

The latest Dun and Bradstreet national business expectations survey shows expectations have continued to decline as firms grapple with weaker consumer spending and the fear of rising fuel prices.

The survey shows significant declines in the outlook across most indices after record highs just six months ago.

Sales expectations were now at their lowest level in almost two years, dropping 17 points to a net index of 14, with a particularly weak retail sector that has struggled to stimulate consumer interest even with heavy discounting, Dun and Bradstreet said.

Dun and Bradstreet chief executive Christine Christian the downturn occurred as the government stimulus package wound down and households reassessed their debt levels and sought to pay down their liabilities (deleveraging).
On the face of it the NAB "survey" simply reads to me like a bunch of vested interests talking their book in an attempt to hold the line on property values. But they are not alone.
For the last couple of years the media has been telling Australians that housing problems are an issue for other countries. However with problems now occurring in Australia it is time to move the line a little closer. It seems that South Australians need reminding that housing problems are now only an issue for Queenslanders with this little piece in the Adelaide Advertiser. (h/t Anne)
Give me safe old Adelaide any time  – by Anthony Keane

Adelaide Advertiser  April 2, 2011

When do you think Adelaide will get its first 70-storey residential skyscraper? My guess is this will arrive at some time between 2050 and when hell freezes over. But big isn't always beautiful in the world of property investment, as I discovered on a recent trip to the Gold Coast.

There, skyscrapers are sprouting like mushrooms. Not content with building the world's tallest residential tower, Q1, in 2005, there are two more 60 or 70 storey buildings under construction, adding to several other skyscrapers built over the past decade. But all this action and glamour masks a sad story for investors in the Gold Coast property market, where prices have dropped sharply since before the global financial crisis, buyer activity is weak and receivers are having a field day.

Many investors who bought off the plan are facing bank troubles as their new apartments are worth less than initial valuations – in some cases hundreds of thousands of dollars less. Compare this with steady-as-she-goes Adelaide, where property prices have not done much in the past few years but they haven't gone backwards.

Adelaide's coastline is dominated by the Holdfast Shores development, where the highest building is just 12 storeys. We may not have the skyscrapers but we don't have the constant boom-bust cycle either. Also, property development is not a key plank of our economy so when property prices fall – in the extremely rare occasions that they do here – it doesn't have large flow-on effects on jobs and businesses.

In the Gold Coast and similar places it's all about supply and demand. During boom times too many high-rise apartments get bought and built, which ultimately leads to a painful bust because of oversupply. Buildings always depreciate, unlike the land they sit on. If you invest in a 60-storey apartment building, technically you're sharing that little plot of land with 60 other investors, plus paying hefty costs for maintenance of the building's facilities.

Also, every time a new building pops up, yours becomes a little bit older and less attractive. Even Q1's reign as the world's tallest residential building is almost over, with two even bigger towers – one of them almost 100m higher – set to be completed within the next 12 months in Dubai. Owning a property investment in a popular holiday destination sounds romantic but unless you're paying cash for it, in most cases you're better off paying to holiday at your favourite place whenever you can.

For me, a nice Adelaide home on a suburban block in a good area wins hands-down in the investment game.
With falling sales and growing stock on market there seems to be growing evidence that those in Adelaide may need to adjust that line even closer shortly.