Earlier this month, the Western Australian (WA) Chamber of Commerce noted that the WA economy had fallen into technical recession, experiencing two successive quarters of negative economic growth in the last six months of 2010: 
Western Australia is generally regarded as Australia's economic engine room with its booming resources sector, but its manufacturing and retail sectors are struggling.

The WA Chamber of Commerce says the state's economy experienced a technical recession in the last six months of last year.

"The state of Western Australia very much mirrors the broader national economy in that there is very much a two-speed economy at play," said John Nicolaou, the chamber's chief economist.

"You have the resources sector and anything connected to that sector that's performing very strongly.

"Against that you have other sectors in the domestic economy, particularly those consumer facing sectors which are struggling."

The chamber has looked at state economic growth figures in the latest national accounts data from the Bureau of Statistics, released early in March.

John Nicolaou says the figures show that WA went into a technical recession in the last half of 2010, with two quarters of negative growth.
Now The West Australian newspaper has reported that thousands of WA homeowners that purchased at the top of the market in late 2007 and early 2008 are in "negative equity".
Tens of thousands of Perth homeowners who bought property at the top of the boom before the global financial crisis are facing big losses as the market goes through its worst period in almost two decades.

Special analysis of median house and land prices across the city reveals that people who bought at the peak of the market in late 2007 and early 2008 hoping to see their investment grow now hold "negative equity".

Once inflation is taken into account, a person who bought a median-priced block of land in Perth three years ago is at least $48,000 worse off, while someone who bought a median-priced house is down by almost $25,000.

The median price of a house sold in Perth grew 162 per cent between early 2002 and the end of 2010, while the median price of a residential block of land rose 182 per cent.

But all that growth was up to the peak of the market in late 2007.

Since then, the median price of a house has lifted just 3.2 per cent to $480,000, while for land it has fallen 9.4 per cent to $240,000.

However, this does not take into account movements in the inflation rate.

Between 2007 and 2010, overall prices in Perth have risen 8.7 per cent.

If house prices had kept pace with inflation, the median price would now be $505,000.

For someone who borrowed all the value of a median-priced home in Perth, that translates into a loss so far of $25,000 coupled with interest repayments of $75,000 over the past three years.

It is worse for people who have bought land.

If residential land had kept pace with inflation, an average block in Perth would now cost $288,000. That translates into a loss of $48,000, given the current median price.

It's the worst performance by the Perth market over three years since the early 1990s when median house prices fell.
To be fair, The West Australian article is a little misleading, since it claims that thousands of WA home owners are in negative equity, whilst at the same time noting that home prices have in fact risen 3.2% since 2007 (see below RBA chart). For negative equity to occur, WA home prices would need to have fallen in absolute terms, not inflation-adjusted terms.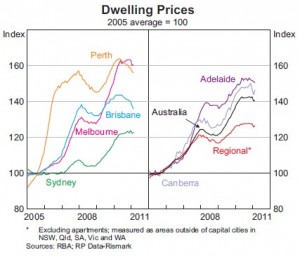 Still, the article does highlight what an ordinary investment WA housing has been since 2007. Moreover, WA home prices are clearly trending down, having fallen 4.1% over the past 12 months according to RP Data (see below chart):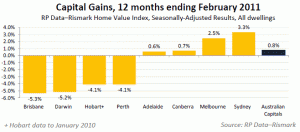 All up, the articles by the WA Chamber of Commerce and The Western Australian could have the effect of further denting the confidence of WA households, thereby potentially acting to further reduce expenditure, economic growth and home prices.
Western Australians better hope that the commodity boom continues unabated, since it looks like they can no longer rely on debt-fuelled consumption on the back of rising asset prices to drive the economy. 
Cheers Leith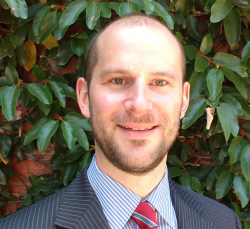 Latest posts by Unconventional Economist
(see all)