The NAB March Business Survey is out. It looks like a break in the clouds. NAB itself assessed conditions this way:
Business conditions recovering while sentiment remains above trend. Inflation remains low, but purchase costs rising.

The Australian economy appears to be showing signs of recovery following the flood-induced slowdown, with the NAB business survey reporting a marked improvement in business conditions in March, driven by sharp rises in trading conditions and profitability. The overall business conditions index is now at its highest level since March 2010. Conditions in Queensland improved significantly in the month but are still very poor. Business confidence declined in March, though remains positive and above trend. More broadly, confidence is now more in line with business conditions (or outcomes).

Forwards orders and stocks picked up, and are now in positive territory. Capacity utilisation also edged a little higher. The survey is consistent with annualised domestic demand growth of around 2½% in the March quarter which, given the impact of recent floods on coal and commodity exports, suggests a flat to negative outcome for GDP in Q1. That would imply a 6-monthly annualised rate of around 1½% versus the survey read of 2¾%. Maintaining March monthly readings in Q2 it would imply a return to more than 4% growth.

Labour costs were broadly unchanged but continue to trend down in annualised 3-month-average terms. While price inflation remained relatively low, purchase costs are rising.

Implications for NAB forecasts*:

Japanese earthquakes and nuclear disaster caused a modest downward revision in global growth in 2011, but it is still expected to reach almost 4½%. This is a good result given the variety and frequency of activity shocks and it reflects the continuation of growth momentum seen late last year in some big developed economies (Germany, US). Growth is slowing in the big emerging economies as policy is tightened, but they are still expanding rapidly, holding up commodity prices.

 Australian forecasts unchanged. Economy expected to have stalled in March quarter because of floods and cyclone; coal exports still weak in February. NAB survey conditions improved sharply quarter-end and may signal expected recovery from mining investment, flood reconstruction and income effects of commodity prices. GDP growth forecast at 2.5% in 2011 and 3.7% in 2012. Unemployment to decline to 4½% by 2012.

Next rate rise still expected in August (to 5%) with final adjustment to 5¼% in November, but RBA likely to pre-empt any unanticipated cost pressures. Signs of food price impacts from floods but RBA will ignore these. Exchange rate forecasts unchanged (AUD to peak around 1.05 USD).
My reading is as follows. Definitely a nice bounce in general business conditions: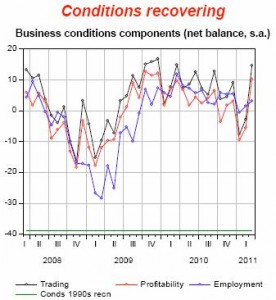 Business confidence is ok, but nothing to write home to mother about: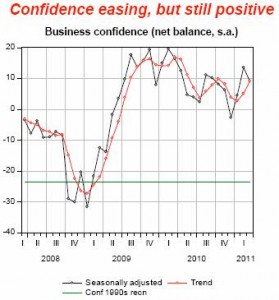 However, although confidence has bounced nicely out of the floods, demand growth is still declining quite strongly in a  trend that has nothing to do with water: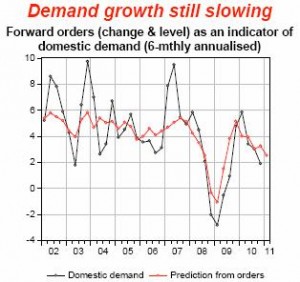 However, NAB also noted that new orders in March jumped into the 4% range so there may be hope of new demand flowing through in the June quarter. That would be a wait and see for me. Our final graph is less positive, with labour and producer costs showing small gains: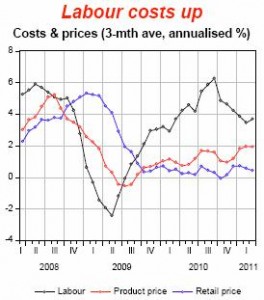 Note too the divergence between producer costs and retail prices. Definitely some margin pressure in there for any business that doesn't have the monopoly power to pass deflation along the supply chain.
Nothing here to push the RBA either way yet but another month of labour price movements like that and NAB's August forecast will look solid.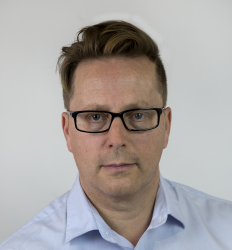 Latest posts by Houses and Holes
(see all)