Just in, credit rating agency, Moody's Investor Services, has downgraded China's property sector to negative from stable, citing both falling property sales and prices [my emphasis]:
Hong Kong, April 14, 2011 — In a new report, Moody's Investors Service changes its outlook for the China property sector to negative from stable. The change reflects the rating agency's expectations for the fundamental credit conditions of the sector over the next 12 to 18 months.

"China's property developers face a tough operating environment, driven by tightening regulatory measures, rising interest rates, reduced bank lending, and increasing supply. We believe this will inevitably lead to slowing sales, and pressure on profit margins and on balance sheet liquidity for some," says Peter Choy, a Senior Vice President at Moody's office in Hong Kong and lead author of the report.

"Greater local enforcement of central directives to control residential property prices and purchase will put downward pressure on both prices and volumes of transactions as an increasing number of cities across China more effectively implement national regulations."

"We anticipate that proceeds from contracted sales of residential properties will decline by an average of 25%-30% in China's first-tier and most of the second-tier cities, where local governments have implemented measures to stabilize property prices and prohibit the private ownership of more than two properties per family," adds Choy.

"However, the impact on individual developers will vary, depending on the quality of products, location and number of new projects to be launched in 2011. Those in third- and fourth-tier cities will be less exposed to the tightening measures."

Choy further notes that "during the next 6 -12 months, Chinese property developers will face challenges in securing onshore debt financing, as the government enforces its strategy of slowing monetary growth to reduce the risk of accelerating inflation and to manage domestic banks exposure to the property sector."

Tighter domestic credit this year has led to a spate of offshore fundraising by property developers with offshore listings. A second author of the report, Kaven Tsang, an Assistant Vice President at Moody's, says that "the Chinese property developers accumulated large cash holdings from strong sales in 2010. However, we expect their liquidity to weaken this year, due to slowing receipts of presale proceeds and a sizeable cash outflow to cover unsettled bills for acquired lands, larger developments, and maturing trust financing and bank loans."

"In 2011, a greater supply of new properties — both from developers and from the planned introduction of 10 million low-income housing units by the government — will hinder further price increases and lead to a mild correction in cities that experienced the sharpest price rises in the past 12 to 18 months," Tsang adds. "Higher input costs to build homes will also weigh on margins, as will the need to produce better-quality products to compete for buyers in a reduced demand market."

The report cites that the liquidity of ten developers — Hopson, Powerlong, Greentown, Glorious, Shanghai Zendai, SRE Group, Shimao, Central China, Zhong An and Coastal Greenland — will be more vulnerable if their overall sales fall by 25% from the previous year.

The report, "Suppressed Demand and Squeezed Credit Will Cool China's Property Market," is available at www.moodys.com.
A 25 to 35% slowdown of residential sales could have a devastating impact on Chinese government revenues. As noted recently in Shanghai Daily, China's local governments have become addicted to taxes and fees levied on developers and other land users:
National data shows, during 2001-2003, the total land-sales revenue was over 0.91 trillion yuan (US$137 billion), accounting for 35 per cent of total fiscal revenue. The figure for 2009 rose to 1.5 trillion yuan, equivalent to 46 per cent of the total.

This year's figure is expected to surpass 2 trillion yuan, an astronomical one.

In the breakdown, the combined land revenues for Beijing, Tianjin and Shanghai – whose housing prices are among the nation's highest – are expected to hit 400 billion yuan, 20 percent of the expected national total of 2 trillion yuan. In contrast, the combined GDP of these three cities accounts for only 11 percent of the national total.

Many other cash-strapped cities and counties are virtually running on land sales.

…The adoption of the "revenue-sharing-scheme" in 1994 gave governments great incentive to sell as much land as possible at top prices.
China's central government looks to be in a bind. By acting to reign-in the property market, it stands to win favour with ordinary Chinese, who are being squeezed by unaffordable housing and rising costs of living. On the other hand, the reduction of sales volumes and prices risks damaging local government finances, whilst potentially destroying the accumulated wealth of property investors.
In addition, real estate construction has become a key driver of Chinese economic growth, accounting for just over 20% of China's fixed asset investment (see below RBA chart).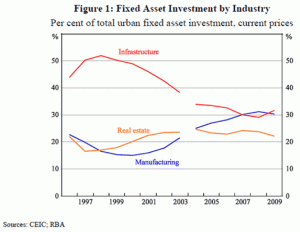 In turn, fixed asset investment accounted for around 70% of China's GDP growth as at end-2009 (see below chart).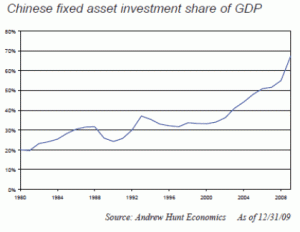 I won't go into the importance of continued strong Chinese economic growth to the health of the Australian economy, since I have provided detailed analysis previously (for example, see here and here). What I will say is that the increasingly bearish sentiment towards China is worrying, particularly given Australia has leveraged itself to the China growth story.
Put simply, if China's growth stalls, Australia's economy will crawl.
Cheers Leith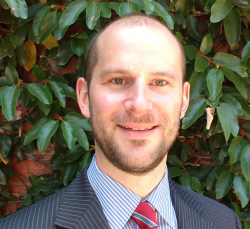 Latest posts by Unconventional Economist
(see all)