Gold looks like breaking through the $US1500 an ounce level in overnight trading. This new nominal historic high comes as no surprise due to the metals relentless march upwards in a primary bull market that has lasted 10 years.
What is surprising is golds recent correlation with all other risk assets (e.g equity markets, commodities etc) has inverted – with European and US markets down 1-2% (Greece down almost 3% at time of writing) although "King dollar" is rallying against the majors, with US Dollar Index (DXY) up slightly.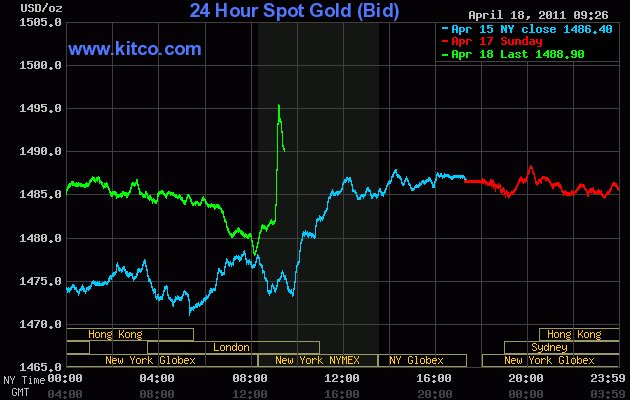 This recent spike may have been driven by the news that the University of Texas has taken physical delivery of almost $1 billion of gold, instead of relying upon a paper contract. From Bloomberg:
Dallas hedge-fund manager J. Kyle Bass helped advise the University of Texas Investment Management Co. on taking delivery of 6,643 gold bars, worth $987 million on April 15, now stored in a bank warehouse in New York.

Bass, who made $500 million with 2006 bets on a U.S. subprime-mortgage market collapse, said managers of the endowment, known as UTIMCO, sought board approval to convert its gold investments into bullion this year. A board member, Bass, 41, said he was asked to help with that process.

The Texas fund's $19.9 billion in assets ranked it behind only Harvard University's endowment as of August, according to the National Association of College and University Business Officers. Last year, UTIMCO added about $500 million in gold investments to an existing stake, said Bruce Zimmerman, the endowment's chief executive officer. The fund's managers sought to take delivery of bullion to protect against demand for the metal overwhelming supply, according to Bass.
But more likely, speculators ran on the ratings outlook cut on the US economy by Standard and Poors. From The Wall Street Journal:
Standard & Poor's cut its ratings outlook on the U.S. to negative from stable while keeping its Triple-A rating on the world's largest economy.

"More than two years after the beginning of the recent crisis, U.S. policymakers have still not agreed on how to reverse recent fiscal deterioration or address longer-term fiscal pressures," said Standard & Poor's credit analyst Nikola G. Swann.

U.S. stock futures plunged on the news, with Dow industrial futures falling 167 points. Bond yields rose.
Although this is hardly surprising, the market has responded with a "where did that come from?" response. More here and here.
Disclosure: The Prince is a full time equities trader, running a personal account. I may have positions (long and short) in some or all of the securities, commodities or other investments mentioned above. This post is not advice or a recommendation to buy or sell. Do your own research and consult an adviser before allocating capital.
Latest posts by Chris Becker
(see all)