China, India, Europe, UK and even US inflation is accelerating sharply at the moment. Data over the weekend reinforced that the period of ultra-low rates is probably ending and rates might move more sharply than markets expect even with growth not yet assured.
 
Over the weekend the PBoC increased the reserve requirements for their major banks for the 7th time since Q3 last year taking it to 20.5% after the annual pace of inflation rose more than expected to its highest level since July 2008 at a time when growth remains strong.
However it is not just China who is worried about inflation with the US experiencing an 0.5% increase in consumer prices  for the second straight month in March, data released Friday showed. These two increases come on the back of two consecutive increase of 0.4% in December and January. This has seen the annual pace of inflation rise to 2.7% from 1.5% over the past 4 month period and 1.1% in November last year. The really scary stat is this acceleration of inflation in the US. It may seem like voodoo stats but if we annualize the last 4 months we can see that the annual US inflation rate is rate is running at the same pace as that of China. Is it any wonder that a number of Fed members are getting anxious about rising inflation.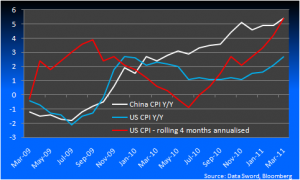 Oh, and for Janet Yellen's edification following what she had to say last week (which Deus Forex Machina discussed here) look at the relationship between the rate of growth in inflation and the Fed's balance sheet. Nothing to see is here Janet.