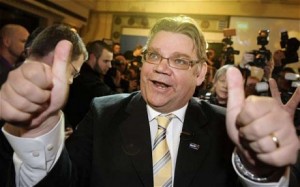 As I noted in my previous article on Portugal the Fins have been posturing for more serious austerity from the PIIGS. It seems however that as of today the circumstances in Finland have changed somewhat and the outcome for the rest of Europe could have just become far more difficult. A Finnish election has just been held and the new parties don't seem too happy with the way Europe has been dishing out cash to the southerners.
Finland's euro-skeptic bloc is poised to enter a government with the pro-Europe National Coalition led by Finance Minister Jyrki Katainen after voters used yesterday's election to protest against funding bailouts.

The True Finns, whose leader Timo Soini says taxpayers shouldn't have helped rescue Greece or Ireland, jumped almost 15 points to 19 percent, the Justice Ministry said. Katainen's National Coalition won 20.4 percent to become Finland's biggest party for the first time. Prime Minister Mari Kiviniemi's Center Party got 15.8 percent and the Social Democrats, which also opposed bailouts for Greece and Ireland, won 19.1 percent. Kiviniemi will lead her party in opposition after its "huge defeat," she told broadcaster YLE.

"They could not leave the True Finns out of government after this landslide," said Tuomo Martikainen, professor emeritus in political science at the University of Helsinki, by phone. "It would be making a mockery of democracy."
At this point in time it is a little difficult to tell exactly how the new government will be formed. The Daily telegraph UK has some commentary on the possibilities. The important thing for the rest of the world to know is this.
A finnish Eurosceptic party that opposed immigration, the Euro, and bailouts for struggling European countries has won a fifth of votes in the country's general election.

The True Finns party is completely against plans to rescue any struggling country, which could spell trouble for Portugal, which has made a request for financial assistance.

Finland has the power to veto a eurozone bailout package, and with a coalition in the pipeline for the government there, it is likely the True Finns will be invited for talks.

The True Finns saw an almost five-fold increase in support since Finland's last election, coming third behind the established conservative National Coalition Party and the opposition Social Democrats.

The outcome means conservative leader Jyrki Katainen may have to invite both opposition parties to talks, raising questions about Finland's support for rescue packages that need unanimous approval in the 17-member eurozone.

Katainen says that "solutions will always be found", while True Finns leader Timo Soini has conceded that coalition talks "could be quite difficult".

Soini added, however, that politics was about "making compromises" and said coalition talks would have to take place before any decisions could be made on Finland's support for any further bailouts.

The True Finns attracted the support of many voters with its pledge to veto any reforms to the current European bailout mechanisms that would require Finland to increase its financial contributions.

The party's significant gains see its share of seats in the 200-member Eduskunta jump from 6 to 39.

The Social Democrats, too, are opposed to increasing Finland's financial responsibilities to the rest of the Eurozone.
And it looks like Spain just paid the price for those election results.
Spain's short-term cost of borrowing rose sharply during a €4.6bn debt auction on Monday, casting fresh doubt on the recent claims that Europe's fifth-largest economy had broken away from the concerns affecting the region's troubled periphery.

Amid mounting speculation about the possibility of Greek sovereign debt restructuring, and with investors nervously eyeing the electoral success of a eurosceptic party in the Finnish elections, Spain was forced to borrow at substantially higher levels in a sale of 12 and 18-month treasury bill
It is not as if Europe's problems ever went away but this has obviously made them far more immediate.