As you can probably tell we are all having a bit of a break over Easter. But just while I have a bit of time before the Easter Bunny arrives and my yard apes turn into sugar crazed lunatics I thought I would share a few stories I am watching.
China Protests
Over the last couple of days there has been a strike by truck drivers in China .
At least hundreds of truckers held protests over rising costs in China's commercial metropolis, illustrating the potential for inflation to fuel unrest in the world's No. 2 economy, a response China's leaders fervently seek to avoid.

The protests began Wednesday, with possibly more than 1,000 truckers gathering near the Shanghai CIMC Vehicles Logistics Equipment Co., according to witnesses, who said several were detained by police. On Thursday, the entrance to CIMC Logistics was blocked by two containers set down in the road, and access was controlled by police. Nearby, in the north Shanghai district of Baoshan, truckers vowed in interviews that they would continue agitating for higher pay that they say is needed as fuel and other costs rise.

Wire services reported demonstrations Thursday in at least one other port area of Shanghai that involved clashes with police.

Trucking traffic remained heavy Thursday around Shanghai and there was little sign that the unrest had disrupted activity through the city's container ports that, by some rankings, are the world's busiest.

Still, the trucker protests and the robust police response they prompted offered the latest illustrations of the risk to social stability in China posed by inflation that in March hit its fastest pace in 32 months.

China's government has signaled anxiety at the possibility that economic hardship, including inflation, might ignite Mideast-style political opposition, and Thursday's visible police presence in response to the protests underscored the government's active efforts to snuff out complaints.

The protests went virtually unreported in China's state-controlled media and some truckers said cellphones being used as cameras were being taken by the police and broken during protests, and that photos posted online of the events later weren't available.
Although protests in China are not that rare,  I got the feeling that the outcome of this particular event would be telling about how the Chinese authorities are going to handle the economy versus social unrest balance going forward,  and whether they are "actually" going to implement their latest plans.
The outcome reads like an appeasement, which may have some interesting implications for Australia.
Shanghai authorities have offered concessions to truck drivers who staged a strike over rising fuel costs, amid concerns that anger over inflation could spark wider unrest in China.

Hundreds of drivers picketed this week at shipping sites in Shanghai, the world's busiest container port, calling for lower port fees to offset damaging hikes in diesel prices, in a strike that prompted a heavy police response.

The Shanghai Municipal Transport and Port Authority published a set of proposals late Friday in response to strikers' demands, abolishing or reducing various fees incurred by drivers.

But there was still some dispute over container freight charges, said Wen Yunchao, a prominent blogger who has followed the strikes and been in regular contact with people on the ground.

Authorities have reduced those changes from 50 yuan ($7.7) to 20 yuan per container, but drivers want them abolished altogether.

Wen said the situation in Shanghai appeared calm on Saturday, with drivers apparently in negotiation with authorities. It was unclear whether the strike had ended altogether.

But Wen added that this week's strikes could trigger copycat work stoppages in other ports where drivers have similar grievances.

He pointed to a high-profile taxi driver strike in the southwestern megacity of Chongqing in 2008, which was successfully resolved and subsequently triggered cab work stoppages in other cities around the country.

The state-run Chinese-language media — which is heavily censored — has not reported on the strike, in an indication of official unease over the potential for wider unrest.

Inflation has a history of sparking protests in China and the government is on edge over spiralling prices, particularly after inflation became a factor in the popular uprisings that have rocked the Arab world.

China's consumer price index rose 5.4 percent year-on-year in March — the fastest pace since July 2008 and well above the government's 2011 target of four percent.

"They (leaders) realise that the recent inflation situation in China can easily trigger general unrest," Wen said.

The government has raised petrol and diesel prices three times since December.

Soaring prices of food and housing have also become top public concerns, prompting Premier Wen Jiabao to pledge new efforts to contain the problem in his address to China's rubber-stamp parliament in March.
Something to continue to watch.
RBA remuneration
From the SMH today
Wayne Swan reprimanded the Reserve Bank board for granting governor Glenn Stevens a hefty pay rise and taking almost a year to tell the government of its decision, new documents show.

Mr Stevens, the nation's only public servant to make more than $1 million a year, has seen his pay rise sharply in recent years – to $1,049,297 last financial year – after the bank changed the way it calculated salaries of senior staff.

But the Treasurer's office was not informed of the generous pay rises given to Mr Stevens during the peak of the financial crisis in 2008 until almost a year later, correspondence between the Reserve Bank board and Mr Swan shows.

The extent of Mr Stevens's pay rise and the delay in telling the Treasurer sparked a terse exchange of letters between Mr Swan and Reserve Bank board members, revealed this week in response to a freedom of information request.

On September 15, 2009, Mr Swan wrote to the chairman of the RBA's remuneration committee at the time, Donald McGauchie. Mr Swan said he was "concerned" he was not told of an October 2008 pay rise until September 2009, "nearly one year after the decision".

"Further, I would expect in future that the Reserve Bank board remuneration committee discharge its powers with an emphasis on ensuring that salaries are adjusted to be in line with community expectations of senior officials' remuneration," Mr Swan wrote.

The bank did not publicly disclose its highest salaries until the 2010 annual report.
Clancy Yeates from the SMH seems to be suggesting the fact that Wayne Swan didn't know about Glenn Stevens' pay rise is the story here. But it doesn't surprise me at all that the Treasurer didn't know about this. The Treasurer is not the head of the RBA and the RBA is supposed to have political independence in its functions. What does surprise me is that a statutory organisation has the ability to set its own salaries. I am completely unaware of any other government body outside the realm of politicians that has this power.
According to the RBA website the renumeration committee is:
.. a committee of the Reserve Bank Board. Its membership is drawn from the non-executive members of the Reserve Bank Board.
and you seriously have to challenge the timing. At the height of the GFC, when the entire banking system was on the verge of collapse, the RBA decided to give its own head a $234,000 pay rise.
In comparison with other central bankers, however, Mr Stevens's pay remains high. Bloomberg News reported his 2010 pay was four times more than the US Federal Reserve chairman, Ben Bernanke, and 61 per cent more than Europe's central banker, Jean-Claude Trichet.
Please don't think about that comparison on a per capita basis.
Follow-ups
In a follow up to my post on Harry Triguboff  the Age has another story on apartment trouble, this time in Melbourne.
Intense competition in Melbourne's booming apartment market is taking a toll, with some high-profile developments stumbling after well-publicised launches.

At the top end of Swanston Street, developer Grocon is "re-engineering" its signature 32-storey Portrait apartment building in Carlton, which has the face of indigenous leader William Barak sculpted across its 100-metre-high facade.

And South Yarra's controversial $120 million, 14-level Tresor development, designed by architects Wood Marsh with sculptures by local artist Mira Gojak, faces uncertainty after key development partner Equititrust ceased income distributions on several property funds, prompting threats of legal action from investors.
In case you aren't aware of what the Equitrust problems are, here is a report from earlier in the week.
The frozen mortgage fund Equititrust has told furious investors in its income fund that they could lose up to 20 per cent of their investment because the value of property development sites has plunged.

The chief executive, David Kennedy, said he had told the group of mostly elderly investors that the "worst case scenario" for the $260 million fund was that it may only pay out 80¢ in the dollar when it is "thawed" later this year.

He offered cold comfort, telling BusinessDay that they would be better off than the tens of thousands of investors in the Gold Coast financial group MFS who received considerably less after it collapsed. Mr Kennedy is the former chief operating officer of MFS.
Finally, in a follow up to my post on the budget, bits and pieces are slowly starting to "leak" out about more details. (Click on the image for video)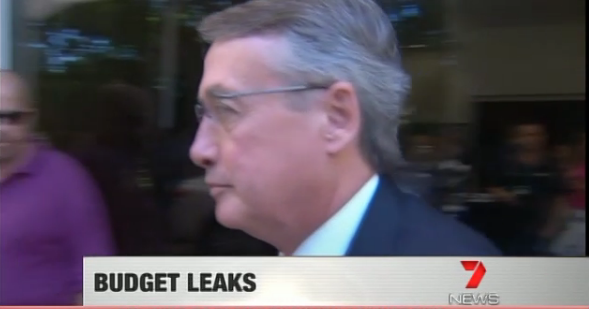 I will be on "budget watch" tomorrow as governments love to use public holidays to release bad news in hope that everyone is too busy to notice.
Happy Easter..