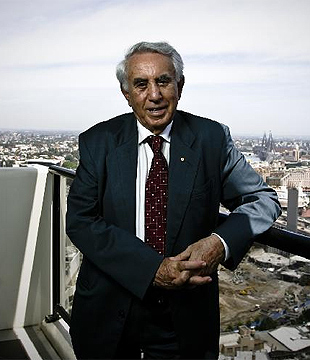 I haven't mentioned Harry Triguboff previously. For those who aren't aware he is also known as "High rise Harry" and is the head of Meriton. Meriton are the largest developer of apartments in Australia with around 50,000 under their name. Harry is a huge supporter of "Big" Australia and is obviously a person who would usually "talk up" property.  This penchant for property has lead Harry to make so pretty poor calls on Australian property in the past, such as this one from late 2009 about the future of the Gold Coast.
High-rise king Harry Triguboff, confident that the Brisbane and Gold Coast apartment markets are heading for a price surge, is to step up his quest for new development sites and hasten the launch of two major projects.

The veteran developer is putting sites in the Brisbane CBD and central Gold Coast 'under the microscope'. He says he will bring forward the launch of a 77-level Brisbane tower, Infinity, by several months to the middle of 2010.

He has a similar timeframe for the launch of the final, and premier, stage of his $1 billion Brighton on Broadwater project on the Gold Coast. The stage, Coral, will consist of a 40-storey tower with shops at its base.

Mr Triguboff, earlier this year rated Australia's third-richest person with a $3.66 billion fortune, says his optimism over price growth is based partly on surging prices in the Sydney apartment market.

"Prices in Queensland will, I am sure, follow suit and that will happen sooner rather than later.

"They may not reach Sydney levels but the gap will close.

"That's because apartment supply levels in Brisbane and the Gold Coast are falling and, with the credit squeeze forcing many projects to be shelved or deferred, supply will get even tighter.

"That means rents will go up, with rent pressures being further increased by strong migration to south-east Queensland."
Harry got that one very wrong. I have previously talked about what is happening on the Gold Coast and most recently noted that the problems are getting worse. Today the Oz has even more details on the problem.
What on earth is happening in Queensland? New figures released by the Australian Bureau of Statistics show that net interstate migration to the sunshine state during the September quarter was down 40 per cent on the corresponding quarter the previous year.

And this is on top of three years of successive falls in interstate migration.

Six years ago, in the year to June 2005, Queensland added 94,000 residents, a third of whom arrived from other parts of the nation.

Last financial year, Queensland added not that much less population (89,000), but with barely 10 per cent arriving from interstate. This is an important shift: from 30,000 net interstate migrants a year to 9000 has a big impact on business and, I suspect, state coffers.

Queensland's growth is now underpinned by overseas migration (which is in freefall following policy shifts last year) and an elevated birth rate. Babies do not directly impact on the demand for housing nor do they work or pay tax – at least not to the extent that interstate migrants do.

Interstate migrants typically buy houses; overseas migrants initially rent. If this assessment is correct, then there would be soft demand for residential property but high demand for rental accommodation.
But it is not just inter-state migration that is the problem. Meriton is a business that has a firm focus on China, you can see from their website that they have a major China based clientele.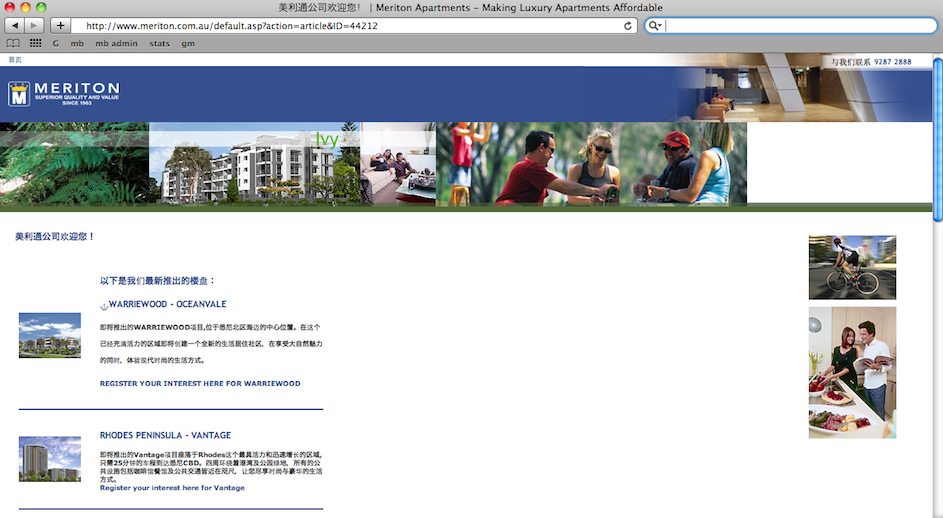 It seems however that the China business is drying up. Today Harry, the property optimist, has warned that the Chinese have given up on Australian Real Estate.
Chinese buyers have deserted billionaire Harry Triguboff's Meriton Apartments, with sales to Chinese owners and investors dropping from 30 a week to 10 a week over the past month. Mr Triguboff said prices in the overheated Chinese property market were starting to fall, while the Australian dollar continued its stellar run, making Australian property increasingly expensive compared with China.

"Our (real estate) market is the Chinese market, just like coal and iron ore," Mr Triguboff said.

"We need lower interest rates so that our dollar drops and it stimulates growth."

Mr Triguboff, whose Meriton Apartments builds more than 1000 units a year, said Chinese owners and investors had accounted for about 75 per cent of Meriton sales for the last two to three years. But in the past month, numbers had fallen steeply.

"Real estate is already dying. You can have all the planning reforms you want, but this won't help if there are no buyers," Mr Triguboff told The Australian.

"It means that I won't be buying sites (to build new apartments), not that there aren't some very good sites around. But I am waiting."

Mr Triguboff said the new apartment market relied on Chinese buyers. "The Chinese, they are the only buyers I have. They are the only buyers anybody has," he said.

Locals were renting, staying out of the market in a climate where interest rates were expected to rise.

"Australians will buy when rents become similar to (mortgage) repayments, but repayments are up because interest rates have risen," he said. Mr Triguboff, the fifth-richest Australian according to Forbes magazine with a $3.4 billion fortune, said it would take another year before higher rents pushed people back into buying homes in bigger numbers.
Wow !, That is quite a few revelations from one of the biggest names in Australian real estate. The market is dying, it is only foreigners who have been holding up the market and locals will not be back until rents become similar to mortgages.  There is one big problem with that, something I have spoken about before, in a falling market rents don't rise, which is exactly what was displayed in another article from the Oz today.
Wilson [APM's senior economist] says national unit rentals rose 2.3 per cent in the March quarter, following a subdued performance late last year.

"Annualised rental growth comparisons indicate a growing demand for units over houses," Wilson says. "National unit rentals grew 4.9 per cent in the year to March compared to only 1.3 per cent for houses."

Wilson predicts rising yields will reactivate investor interest in property markets and this will increase supply in the rental pool, which in the longer term may provide some relief for tenants.

As is always the case in Australia, these generalised comments do not apply to all real estate locations.

Darwin has seen declines of 6 to 7 per cent in rents for both houses and apartments in the past 12 months, reflecting an end to that city's long up cycle and the over-supply of apartments in the inner-city areas. However, Darwin still has the highest median rents in the nation.

Melbourne has a fairly subdued rental market, with the median house rent down in annual terms and the median unit rent up only slightly.

Melbourne, oddly, has some of the lowest rents among the capital cities, well behind Sydney, Darwin and Perth, and marginally behind Canberra and Brisbane.

Investors need to be careful when buying inner-city apartments in Melbourne.

More than 2000 units are under construction, with many more in the planning pipeline.

"Melbourne provides some hope for tenants that more properties will become available as a result of its recent boom in inner-city apartment construction, although this is not likely to have an impact on the marketplace until 2012," Wilson says.

But, across the board, the future looks likely to provide solid increases in rents and yields.
That is what the "experts" always say. But that is not what history has taught us actually happens. Even in flood effected Brisbane good luck finding anything that even looks close to a "solid increase" in rent. You can check out the data yourself at the Queensland RTA website, the average weekly rent for a 4 bedroom house in Brisbane city has gone up just $15 dollars over the 12 months to March 2011 despite the scare mongering by vested interests.
So if foreigners are out and rents are stable at best, is there anyone left in the Ozzie RE market ?