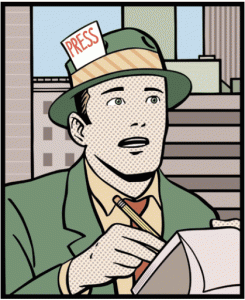 David Uren has been on fire recently, publishing top notch articles in the Australian on conficts of interest within the RBA and Dutch Disease hitting the budget.  Today he followed up with a cracking piece on how RBA and government incentives have hurt the Australian housing market. Below is an extract of the best parts, with some charts added for extra context:
The efforts by the government and the Reserve Bank to prop up the housing market during the global financial crisis are largely to blame for its sick state now.

The boosts to the first-home buyers grant and the slashing of interest rates brought forward demand and left a hole once the stimulus disappeared… Add in the pro-cyclical influences of the tax system, and there are the ingredients for a housing slump…

The Australian housing market is in a worse state than is widely understood. Demand is falling, supply is rising and the monthly turnover is drifting lower.

Prices have gone nowhere for the past year, but market dynamics suggest the scattered falls will become more widespread.

The best measure of demand is housing loan approvals.

A big fall in January, revised up last week to 6.3 per cent, was mainly sheeted home to floods in Queensland and Victoria. But the subsequent 5.6 per cent fall in February hit all states, with a 10 per cent drop in NSW one of the biggest. Looked at over a longer scale, new home loan approvals are down by 30 per cent from the peak reached in September 2009.

The best measure of supply is the property listings. RP Data's assessment of online and newspaper listings shows there were a record 260,000 properties advertised for sale over the four weeks to April 3. That is 24.1 per cent more than a year ago, when the market was booming. While the properties on the market are rising, the number actually being sold is falling.

RP Data senior research analyst Cameron Kusher says that monthly sales stood at 37,500 in May last year, which was when prices peaked. By December, they were down to 27,500. So there is now 9 1/2 months' supply of houses on the market, up from 5 1/2 months' a year ago…

When the global financial crisis struck in September 2008, the big worry was that rising unemployment would result in a wave of forced housing sales and defaults…

With Australians carrying more housing debt than almost any other nation, and Australian housing prices having risen further, Treasury, the Reserve Bank and the Australian Prudential Regulation Authority feared a housing slump would have catastrophic consequences.

Treasury chief at the time Ken Henry said Treasury had always hated the first-home buyers grant, believing it simply resulted in prices being bid higher. But on the edge of the precipice, that seemed like a good idea. The $7000 grant was doubled for buyers of established homes and tripled for buyers of new homes.

The Reserve Bank swiftly slashed its cash rate from 7.25 per cent when the crisis broke to 3 per cent by April 2009. Standard mortgage rates dropped from just under 10 per cent to 5.8 per cent…

From April 2009 until March last year, the combined effect of demand from first-home buyers and low interest rates was pushing house prices up at a rate of 1 per cent a month, leading the Reserve Bank to fret about a new housing bubble. That was then. The number of first-home buyers has dwindled from a peak of about 18,000 a month to an average of about 6000 this year. The stimulus incentives did not increase the pool of first-home buyers — they simply encouraged people to bring forward the purchase.
Here are some some RP Data charts on first home buyer activity that support Uren's point:

Back to the article:
Most market economists argue Australia cannot suffer a housing market slump, because there has been under-building for years despite strong population growth, generating a shortage. But the suppressed level of first-home buyers shows that the barrier to new household formation is high…

The reversal of the Reserve Bank's stimulus has drained both first-home buyers and prospective traders from the market… With the increasing weakness in the capital gain outlook, investors are [also] deserting the market…

This is all consistent with the research reported in the IMF's latest report: "Subsidies to first-time buyers are shown to both amplify house price swings in the up turn and lead to deeper subsequent busts"… A further finding is that variable rate mortgages destabilise housing markets, as people are encouraged to enter the market during periods of low interest rates without fully appreciating the interest rate risk they are taking on.

Global investors have long prophesied that Australia's housing market would inevitably suffer a steep fall, pointing to the fact that its prices have risen higher in the past five years than any other advanced country.
Below is a chart for a comparison of house price growth in Anglosphere countries: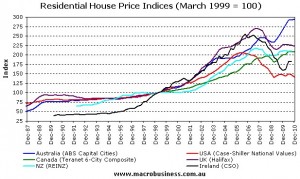 Back to the article:
That view has been discounted by all but the most apocalyptic Australian economists. The level of population growth, the strength of household income and low unemployment suggest nothing should go too seriously wrong.

But the IMF says the leverage of the housing market generates feedback loops — rapid housing credit growth pushes prices higher, which encourages further credit growth and, as Australia may be finding, vice-versa.
In my opinion, Uren neatly captures the current state of play in the Australian housing market. In a nutshell, first home buyers (FHBs) are deserting the housing market which, in turn, is preventing buying from people wanting to trade-up, since they need to sell to FHBs first. And with the lack of demand from owner-occupiers causing sluggish house price growth, investors appear to also be losing interest, since they are driven predominantly by capital gain not by rental yield.
Further, Australia's housing market has been made inherently volatile by: 1) Australia's generous negative gearing and capital gains tax provisions, which encourages investors to pile into the market and chase capital growth on the way up only to desert the market as prices stagnate or fall; and 2) FHB subsidies, which amplifies house price swings in the up turn as demand is pulled forward and leads to deeper subsequent busts as demand later evaporates.
One additional layer of potential price volatility not discussed by Uren relates to Australia's unresponsive housing supply, which causes swings in housing demand to flow directly into prices rather than changes in the level of construction (see here for an explanation).
Another point not raised by Uren is that the gradual retirement of the Baby Boomer generation is likely to act as a significant drag on Australian house prices and the economy going forward (see here and here for details).
All in all, it is gratifying to see mainstream commentators like David Uren writing such well researched and reasoned analysis (MacroBusiness is clearly amongst his sources), rather than acting as just another mouthpiece for industry vested interests.
Indeed, the tide of public opinion appears to be turning judging by the recent change in rhetoric within the mainstream media.
Cheers Leith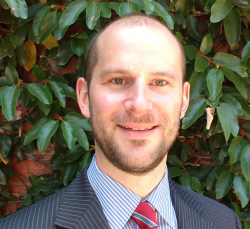 Latest posts by Unconventional Economist
(see all)