In my previous post on Phil Lowe's speech, I noted that the RBA is hawkish and clearly still concerned that consumers will binge as mining boom income passes through the economy. The killer quote was:
Not unexpectedly, this decline in the relative price of manufactured goods has caught the attention of the household sector. In consumer surveys, the number of people that say now is a good time to buy major household items is around its highest level in more than two decades. But interestingly, households do not appear to have responded particularly strongly to this fall in both the absolute and the relative price of manufactured goods, with retail spending having been quite subdued recently. Many households have preferred to use the growth in their incomes to increase their savings rather than to buy more manufactured goods at lower prices. As the Bank has discussed on a number of occasions recently, whether or not this continues will have a significant bearing on how the economy evolves over the next year or so.
But there is a counter point. It is that consumers have made a structural shift toward saving. Courtesy of Adam Carr, there is spectacular evidence of such in this graph he previously produced (then wrongly interpreted):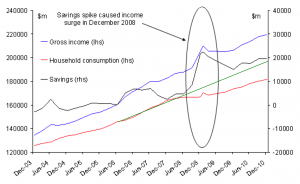 The green line indicating the trend shift is mine. It is crystal clear that the shift to conservatism occurred immediately after the GFC began in late 2007. Since then, as we know, consumers have been on a savings charge: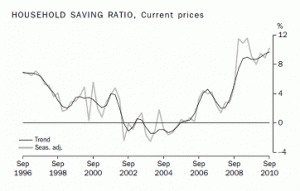 And today we have further evidence that consumer saving is entrenched, from the Westpac consumer confidence survey (full report below), more falls: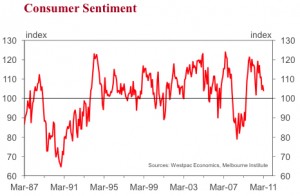 The commentary is fascinating:
This is a weaker result than we had expected. It is the lowest read for the Index since June 2010 in the aftermath of three consecutive rate hikes by the Reserve Bank and controversy over the mining tax.

The key factors behind this weak result appear to be concerns over budget and tax issues and petrol prices. The "news recalled" Index shows that 42.2% of respondents recalled news on Budget and Taxation. That compares with normal readings of around 20%.

On the other hand, interest rates, which normally dominate recalls (at around 40%) were only recalled by 21.6% of respondents. Not surprisingly, with rates remaining steady for the fourth consecutive month interest rate news was assessed as considerably more favourable than 3 months ago. On the other hand news about Budget/Taxation was assessed as significantly more unfavourable than a year ago.

Surprisingly, despite the turmoil in the Middle East, only 13.7% of respondents recalled news on international economic conditions. However, those who did recall that news assessed it as much less favourable than a year ago. Since the last survey the petrol price has been fairly steady with a modest 2% rise over the week of the survey. However we expect that respondents are expecting more substantial increases in prices in the near term and these negative expectations will have influenced the survey.
And get this on saving decisions:
Despite steady interest rates over the last three months we saw falls in "time to buy a dwelling" (down 2.3%) and "time to buy a car "(down 2.9%). The response on housing has likely been influenced by reports of recent falls in house prices.

For some time we have been interested in the savings decisions of the household sector. Consistent with their concerns about the state of their own finances we have seen an increase in their preferences to pay down debt at the expense of investments in real estate or shares. In this survey the proportion of respondents reporting 'pay down debt' as the wisest place for savings increased from 21.7% in December to 22.6% in March. There was a reduction in those preferring real estate from 18.5% in December to 16.3% in March whereas preferences for shares picked up from 9.8% to 12.2%.

Overall, however, we assess that households remain cautious with respect to their saving decisions.
Petrol is just another shock that is reinforcing the larger trend. And it will keep doing so, according to the following chart which compares consumer confidence (inverted) with petrol prices: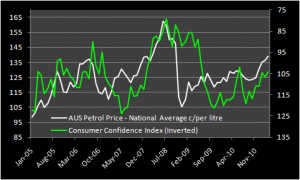 Put this together with Phil Lowe's speech and you get the strong sense that the RBA is underestimating the shift in consumers toward saving. It looks structural. Bad news all around for housing and retail.
er20110309BullConsumerSentiment (1)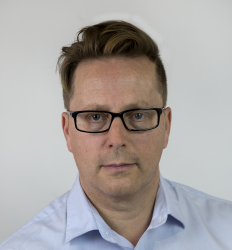 Latest posts by Houses and Holes
(see all)