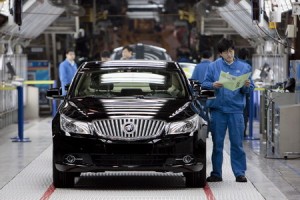 `
Exclusively from Michael Pettis newsletter:
Quite a few numbers came out this week, but none of them were especially dramatic or likely to change anyone's mind about anything. The most interesting thing to me is that there are indications that, once again, the economy may be slowing quickly. Every time Beijing gets worried about too much "bad" growth, it tries to restrain it. Unfortunately there isn't much else going on, so growth slows too quickly. Inevitably they then panic in the opposite direction, and we're once again off to the races. I suspect in a month or two we are going to see evidence of just that.
But to get to the numbers, February year-on-year CPI inflation came in a little higher than expected, at 4.9%, which is what it was in January. If you worry a lot about inflation, the numbers confirm that food inflation remains high, but if you believe that the government will be able to bring CPI inflation down in the second or third quarter, there was nothing in the number to change your mind. I am in the latter camp.
Here is how it was reported in an article in the People's Daily. Notice that they are not pulling any punches when it comes to describing the "daunting job" of fighting inflation, suggesting that this is indeed the top priority for Beijing.
China's government has faced a daunting job to rein in inflation, as the National Bureau of Statistics reported Friday that consumer prices rose persistently in February despite Beijing's rammed-up efforts to control credit supply.

The bureau reported that consumer price index (CPI), a major gauge of inflation, rose 4.9 percent in February year-on-year, exceeding the widely predicted 4.8 percent by economists, as prices of food, housing rentals and service charges kept surging higher.

Meanwhile, the producer price index (PPI), a measure of industrial inflation at the gate of manufacturers, soared 7.2 percent year-on-year in February – compared with 6.7 percent rise in January. Analysts say the staggering industrial price rises will translate to CPI growths in the coming months.
The very high PPI number is probably the more worrying one since it is rising quickly and likely to feed into other prices, especially for exports. Speaking of exports, the number that attracted the most attention last week was the unexpectedly large February trade deficit – $7.3 billion – but as nearly every commentator on China pointed out, the first two or three months of the year are always distorted by the lunar New Year festivities. Our last shocking trade deficit, remember, was in March of 2010.
Mark Williams at Capital Economics also argues that much of the strength in imports was fictional, and caused largely by soaring commodity prices. Very few of us believe that the trade deficit is likely to persist and we will almost certainly see the trade account swing back into surplus and climb for the rest of the year
Finally, in last week's data release, retail sales were up 15.8% for the first two months of the year compared to a year ago. This may seem high and evidence of a consumption boom, but remember that retail sales are a very poor proxy for consumption. In fact retail sales growth has been around 19% for several months, and so the numbers for this year are sharply down. To the extent that there is any value in this figure, it shows that consumption is simply not keeping up with GDP growth. In fact there is still nothing in any of the data to suggest that China has indeed begun the process of rebalancing – surprise, surprise.
How to fight inflation
So what will Beijing do now? Most analysts expect more action on interest rates and at least another hike in the minimum reserve requirement, and I agree. The focus on interest rates was strengthened by comments last week from Zhou Xiaochuan, governor of the PBoC. According to an article in People's Daily:
Although exchange rate policy can affect the general price level, it should not be the main tool for curbing inflation in China, which has such a large-scale domestic economy, central bank governor Zhou Xiaochuan said on March 11.

…The interest rate policy will definitely be an important tool to tame inflation in the process of economic recovery, although higher interest rates might lead to capital inflows, Zhou said at a press conference on the sidelines of China's ongoing parliamentary session this morning. However, China's capital account is not entirely open, and the government still has some measures to manage capital inflows, Zhou said.

…China has a large economy and population. Therefore, the effect of exchange adjustments on price cannot be avoided. However, such an effect on a small and open economy might be relatively smaller. Therefore, China will not rely much on exchange rate policy versus other measures of curbing inflation.
Does this mean that there will be no more appreciation of the RMB? Maybe, but how many times have central bankers assured us of one thing and then done another? It seems to me that Governor Zhou is worried about the impact of appreciation talk on hot money inflows.
And anyway as I have said many times before, I do not think interest rate increases are likely to have a major impact on constraining inflation. I know this sounds heretical, but in order to argue that raising rates will reduce price pressure, we have to explain the transmission mechanism. In the US, as I see it, raising interest rates tends to reduce household wealth (which is mostly in the form of stocks, bonds and real estate) and raise the cost of consumer financing. Both of those things put downward pressure on household demand and so on inflation.
But it doesn't work this way in China. There is almost no consumer financing, and since most Chinese savings are in the form of bank deposits, raising rates actually makes Chinese households feel richer, not poorer. So how exactly is raising rates going to reduce inflationary pressures – might it not actually increase it?
At any rate we don't have to worry too much about this because rates are not rising. In real terms they have declined pretty strongly over the past several months and it will take many interest rate hikes just to make up for the ground lost, let alone to bring interest rates anywhere near the "correct" level. And of course this process of lower real rates has worsened the domestic imbalance because an even lower cost of capital is both increasing the extent of capital misallocation in China and increasing the necessary transfers from the household sector (who are, of course, net savers) to keep this investment viable.
And what about consumption?
So can China rebalance? It certainly is a hot topic. On Friday People's Daily had this pretty excited report:
A development plan for China's domestic trade during the 12th Five-Year Plan period (2011-2015) is being formulated and is anticipated to be published in late April, said Vice Minister of Commerce Jiang Zengwei.

…It is expected that the volume of retail sales will double that of 2010, and the actual annual growth rate will reach 12 percent by the end of the 12th Five-Year Plan period. The domestic trade plan mainly involves a variety of business and trade industries including wholesale, retailing, accommodation and catering industry as well as other service sectors.

It is worth mentioning that the domestic trade plan puts an unprecedented emphasis on consumption expansion. This is the first time China has formulated a plan for domestic trade development in its history, said Commerce Minister Chen Deming.

According to the plan, efforts will be made to further expand domestic consumption demand, vigorously promote consumption of residents in urban and rural areas, foster new consumption growth areas, accelerate circulation modernization, develop chain operations and speed up the development of e-commerce.
I wonder how long the excitement over administrative attempts to raise the household consumption share of GDP is likely to be maintained in the face of stagnant, or even declining, consumption. Probably not more than 2 years, I would guess – after that they are pretty much going to have recognize that the investment-driven growth model itself does not allow for rising consumption. Until they retool the growth model and allow for much lower growth rates, I am willing to bet that consumption will not grow anywhere near as fast enough to achieve any real rebalancing of the economy.
My hope is that after a year or two of failing to get any results on the consumption front, the consensus will turn strongly in favor of the "reformers", who have long argued that China needs to change the growth model and sharply reduce investment. The longer they wait, however, the worse debt is likely to get, and the more difficult it will be to rebalance because the more urgently the banking system will require transfers from the household sector to bail it out.
And debt is getting worse, but at least there is wider and wider recognition of the problem. Last week Liu Mingkang, the head of China's bank regulatory body, warned about extending loans to local government financing vehicles:
China is cutting the size of outstanding bank loans to local government financing vehicles, Liu Mingkang, the head of China's bank regulatory body, was quoted as saying on Monday. Liu, the chairman of the China Banking Regulatory Commission (CBRC), was quoted by the China Securities Journal as saying that Chinese banks were ordered not to extend any new loans to these vehicles unless they were for affordable housing development.

Liu added that the full-year new loans in 2011 were expected to be 7.5 trillion yuan ($1.12 trillion), based on a target of 16 percent growth in M2 money supply. Chinese banks have extended a huge amount of loans, which some researchers have estimated at $10 trillion yuan, to local government finance vehicles since China started its massive economic stimulus package in late 2008.

Economists fret that many of the projects they are funding will never be profitable, saddling banks with bad loans. Liu added that the CBRC is also checking bank loans to property developers for risk control, but banks are still allowed to lend to property developers.
Clearly the level of nervousness about debt in some corners is ratcheting up, even as some policymakers march blithely forward. Cynics point out that next year we should see a raft of "affordable housing development" projects initiated by local governments as their way of gaining access to the financing trough. This will be the easiest way to keep on the credit spigots that are so necessary to keep growth high.
The black hole
But the more bad debt there is, the more pressure on Chinese households to clean it up. That is why I cannot believe we are going to see consumption grow as a share of GDP until growth drops sharply. On that topic the always-forthright Caixing has another very interesting article (and with a scary title: "Peering into a Black Hole of Government Debt"):
Central government auditors launched March 1 a strict, nationwide survey of provincial and municipal government debt programs, looking closely at risks involved in direct and indirect loans backed by local governments.

…Estimates vary for the amount of money loaned to local governments, with official and non-official institutions weighing in with reports and data. But no one doubts the amounts are huge. Outstanding loans to LGFPs alone had risen to 7.66 trillion yuan by last June, exceeding the 7.1 trillion yuan raised through central government bonds. In addition, local governments have issued bonds worth 400 billion yuan via the central government finance ministry since 2008.

Adding up all the various forms of credit tied to locally issued bonds, LGFP credit and central government bonds in 2010 suggests total government debt of some 15 trillion yuan – 183 percent of the national budgeted revenues for that year.
RMB 15 trillion is roughly 35-40% of GDP. The LGFPs mentioned above are local government financing platforms, and they have been one of the main (and distressingly unsupervised) ways that local governments have been able to get around borrowing restrictions to fund what some especially skeptical people might consider out-of-control investment.
The whole article is much longer and well worth reading, with some parts likely to be a little chilling for anyone with much experience of developing-country finance. For example this:
Yan [Qingmin, Assistant CBRC Chairman] confirmed a wide gap between finance ministry and CBRC data. A source close to the Ministry of Finance said the ministry and CBRC officials approach data from different angles. As a result, the ministry's estimate was "much lower than the CBRC amount" of 7.66 trillion yuan, the source said.

In addition, the interests of ministry officials and bank regulators are not always alike. "When banks, the government, businesses and guarantors verify their accounting records, surely there is a game," a manager at a large, state-owned commercial bank told Caixin. "For instance, financial departments consider how many years it will take to absorb debt. Banking regulatory departments worry about risks."

Leadership changeovers also play a role. Over the next two years, for example, leaders will be changed at all local government levels as terms end. The next batch of government leaders may not be as willing to assume debt.
Time to let loose again?
When skeptics like me first started arguing three or four years ago that the structure of the financial markets made an unsustainable increase in debt almost inevitable, it was very hard to convince anyone except a few equally skeptical Chinese academics to take those arguments seriously. Now, perhaps a little late, everyone is worrying about debt. The chairman of the Bank of China even had to deny recently the risk of a banking collapse. According to an article in Wednesday's Financial Times:
The chairman of Bank of China has dismissed suggestions that China could face its own banking crisis as a result of an unprecedented expansion of state-directed credit in the past two years. "Some analysis and estimates from outside say there could be a financial crisis in China in the next few years," Xiao Gang, chairman of the country's third-largest lender by market value, said on the sidelines of the annual National People's Congress in Beijing.

"But I think the chances of a big increase in bad loans in the banking sector are very small." … Mr Xiao acknowledged that non-performing loan ratios at Chinese banks were almost certain to rise from their current low levels of below 1 per cent, but he said there would not be a big jump in bad credit.
It is of side interest that Mr. Xiao made sure to mention that claims of trouble in the banking system came "from outside." In the past two or three years the default rejoinder – from foreigners as well as Chinese – to any skepticism about China's growth trajectory seems to be to dismiss it as being driven by uncomprehending (or even hostile) foreigners, even though as the Caixing article demonstrates, the most interesting analyses come not from foreigners but Chinese.
This kind of thing has happened before, as anyone with a little knowledge of financial history can attest. For example the few foolhardy enough to question Japan's growth model in the late 1980s were almost always dismissed as foreign (even though many weren't), and so incapable of understanding that Japan had invented a new, non-Western, set of economic laws. Skeptics about Brazilian growth in the 1970s were also dismissed as foreign even though, weirdly enough, most of them were Brazilian. Many Americans worried about the US boom of the late 1920s, but it was widely accepted that to question the 1920s American miracle was un-American.
But that aside, I think Xiao Gang is right, but perhaps not in any way that matters. There won't be a large increase in NPLs not because the loans all went to profitable projects but rather because the loans are mostly implicitly or explicitly guaranteed – for example the LGFP loans described by Caixing. But as far as the impact on Chinese economic growth, whether or not they are guaranteed is irrelevant. The losses still have to be covered one way or the other, and if the household sector has to clean up the new banking mess in the same way it cleaned up the last, do not expect any surge in household consumption.
New lending pressures
But we are seeing a drop in new lending and, with it, I expect a rapid slowdown in growth that will soon have Beijing stomping on the gas again. On Monday new lending numbers were released, and if it hadn't been for rumors all week that they would come it at RMB500-600 billion I think we would have all been surprised by how low they were. Here is the relevant article in today's Xinhua:
The People's Bank of China (PBOC), the country's central bank, said Monday that new yuan-denominated loans stood at 535.6 billion yuan (81.52 billion U.S. dollars) in February.

The figure was 192.9 billion yuan less than February last year, said the PBOC in a statement on its website. By the end of February, the balance of outstanding yuan-denominated loans stood at 48.89 trillion yuan, up 17.7 percent from a year earlier. The rise was 9.5 percentage points lower than the rise a year earlier.

| | | | | | | | | | |
| --- | --- | --- | --- | --- | --- | --- | --- | --- | --- |
| | 2010 | 2009 | 2008 | 2007 | 2006 | 2005 | 2004 | 2003 | 2002 |
| Total | 100 | 100 | 100 | 100 | 100 | 100 | 100 | 100 | 100 |
| RMB loans | 55.6 | 68.1 | 71.5 | 61.3 | 79.3 | 82.1 | 78.8 | 81.0 | 92.0 |
| Entrusted loans | 7.9 | 4.8 | 6.2 | 5.7 | 4.7 | 3.4 | 11.1 | 1.8 | 0.9 |
| Trust loans | 2.7 | 3.1 | 4.6 | 2.9 | 2.1 | | | | |
| Bank acceptances | 16.3 | 3.3 | 1.6 | 11.3 | 3.8 | 0.1 | -1 | 5.9 | -3.5 |
| Corporate bonds | 8.4 | 9.2 | 8.1 | 3.9 | 2.1 | 7.0 | 1.8 | 1.6 | 1.6 |
Now as I discussed last week, total new lending has represented a rapidly declining share of the total lending the PBoC now monitors, so we don't really know how much new credit the banks extended in February. The table above was released two weeks ago by the PBoC (I have summarized it), and it shows what has been happening.
The total represents all of the financing that the PBoC is now tracking, and is listed as 100%. I have broken this total lending into a few especially important categories and listed the percentage they comprise of the total. By the way I have left out several categories that I didn't think especially useful to the discussion.
Notice that at the beginning of the decade new RMB bank lending represented virtually all new financing – 92% as far as the PBoC calculates. What is striking is how quickly it came down – in 2010 new RMB loans represented only 56% of total new lending. It didn't decline, of course, because of any restraint in new lending. On the contrary new lending has exploded, especially in 2008, 2009 and 2010.
It came down because other categories surged. We have discussed this on my blog for several years. I have argued many, many times that limiting loan growth through administrative measures (loan quotas, for example) while keeping interests low, credit risks socialized, and maintaining pressure for investment driven growth, could not help but result in an explosion of lending outside the normal channels which the PBoC and the CBRC simply would not be able to control.
When you have excessively loose monetary and credit policy, you will automatically get a rise in risky loans. Not even Japan in the 1980s was able to violate this rule of finance (for all they dismissed it as a "western" rule), and China has not been able to do so either. The PBoC tried to regulate loan growth by putting into place a RMB quota system, but the consequence was completely predictable, and in fact was predicted by several of us.
The system adjusted so as to allow more loan growth to take place outside the regulated areas. Banks, in other words, simply created alternative forms of financing to get around the rules. Now that the PBoC is monitoring this wider range of lending activities, if they start trying to control growth in all of these areas I think it is pretty safe to assume that even newer forms of lending will develop.
Latest posts by David Llewellyn-Smith (see all)