The ABS released its Job Vacancies for February survey today. The overall release was a slight seasonally adjusted fall. More interesting is the industry split. The first chart below is for sectors with rising job ads for the month: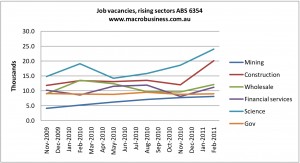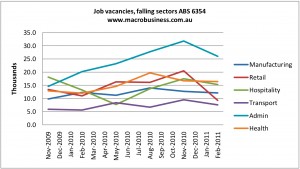 This industry sector split is a relatively new series from the ABS. However, it clearly shows the transformation underway in the economy with manufacturing falling since mid last year and, more recently, retailers clearly overestimating Christmas then jamming on the brakes lately. The stellar performer, albeit with a recent fall, is administration.
On the upside it's all about construction and professional services (science, technical and white collar jobs) with a steady rise in mining off a low base. It is likely, however, that given nothing else is growing, that both construction and professional services are enjoying knock-on benefits from the mining boom in the form infrastructure, mining research and development, as well as other associated white collar jobs.
There's a bob each way in these figures for the discussion around economic restructure. As regular readers will know, I'm no fan of letting the non-resource export sector carry the burden of restructure through a high dollar. In my view, it's analogous to the pro-cyclical thinking that got us into the GFC. Back then it was don't lean against private sector asset-growth and over consumption. Now it's don't lean against private sector over-reliance on mining.
At the same time, there is clear need of skills in the growth sectors.
To address that I would much rather see less government spending, better targeted training investment and higher immigration than I would the shedding of industries that we will never see again.
To be blunt, I'd rather Colorado go bust than an Australian exporter of rubber sex toys.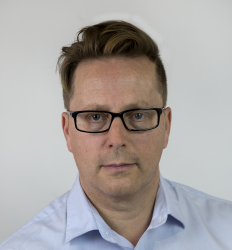 Latest posts by Houses and Holes
(see all)