The RBA's credit aggregates for December were out yesterday and as always make interesting reading. Owner-occupier mortgage debt expanded at an annualised rate  of 7.3% seasonally adjusted. Investor mortgages grew at 4.8%. Personal debt shrank at 4.2% annualised and business at 4.1%.
All four of these figures are showing slow declines or low growth plateaus.
Looking at the aggregates over a longer time frame, is also an interesting exercise: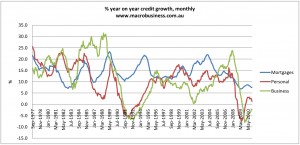 The above image is year on year credit growth graphed monthly back to 1977. There are several obvious things of note. Firstly, there are the wild swings in credit growth rates of the seventies and eighties – the era of inflation. Then, of course, there is the epic bust in personal and business credit associated with the 1990s recession. Through which mortgage lending never dropped below 10%.
Then there is the period following, known amongst American economists as the Great Moderation, when inflation subsided and a seemingly endless expansion of credit was possible owing to lower interest rates.
As Hyman Minsky might say, however, stability of this kind always breeds instability in the financial system as risk premia are compressed and various stages of ponzi lending advance. It would have been no surprise to him to see the huge bust in personal and business credit at the end of it.
So, let's take a closer look at where we are now. The below image is the same year on year credit growth rates graphed monthly but this time only since 2005: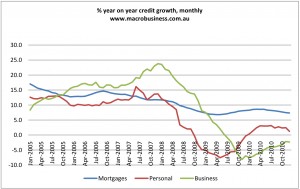 Here we have a clear picture of the new normal for Australian business and assets. In terms of business, there is clear deleveraging. Let's not forget that this is largely bank debt (with some securitisation thrown in) and does not include equity nor bond markets accessed offshore. Nonetheless, it shows a clear unwillingness to either lend or borrow at historic rates of growth.
One doesn't want to jump to too many conclusions from such broad data, but we may find at least part of the answer for why in the personal debt trend. If we take this as a proxy for demand and the aspiration to consumption then it ain't looking too good. And why would business take on debt to expand when demand is so insipid?
The truth is that this is what the RBA wants to see. They have engineered interest rates to produce just this result. Australia's new normal is that it can no longer rely on the accumulation of offshore debt to boost asset prices and consumption. The GFC proved that international markets can and will shut down. To persist with a large external imbalance is imprudent.
In short, despite there being to date no bust in housing, Australia's economy is in a post-bubble adjustment.
Normally, such adjustments are achieved through a long a painful process of deleveraging and growth out of the debt through increased competitiveness, generally via a falling currency (or, in Europe's case, general deflation).
To date, Australia has rather been able to outgrow its bubble because of the income flows and business investment emanating from the iron ore, coal and LNG booms: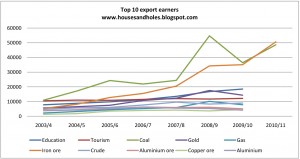 To describe this as lucky hardly seems to credit it.
Where the rubber really hits the road for the RBA, however, is in mortgages. The great experiment, of outgrowing a huge bubble without having to deleverage, hinges ultimately on the housing market.
There is never a stasis point for capital-growth asset markets. Or so they say. Such markets are either going up, as more people borrow ever more amounts, or they are going down as fewer people do so and price falls beget selling on capital loss capitulation.
The recent history of the aggregates appears to test this thesis.
We know that the current pace of mortgage expansion is insufficient to keep house prices growing. Indeed prices are falling in general, if only slowly at this point. The question is, what happens next?
Counter intuitively, this blogger has been of the view that a plateau in property prices is possible, for the reason that the bubble psychology in Australia is so entrenched that, supported by strong employment from the commodities boom, investors will look through weakness in the mistaken belief that they will make later gains.
There is evidence here that to date this is happening. In 34 years, mortgage credit growth only briefly dipped beneath 10% in the eighties. Yet it has now sat below that level for nearly three years without collapsing. Let's call this disleveraging.
There is also evidence at the macro level that this disleveraging is working. At the conclusion of the 06/07 financial year Australia's debt to GDP ratio was 164%. The next near it was 171%. The last two years it has shrunk first to 160% in June 08/09 and at the end of last financial year was 153%. You might choose a different data mix but the trend is clear.
Yet, the longer the RBA engineers these credit growth rates, the more likely the era of across-the-board property price rises is over.
An optimist would say that there will be local growth and falls, and those with the expertise to find the right one could benefit. Which is as it should be, is it not?
A realist, however, would say that there is no stasis in asset markets driven by capital growth. Either  credit growth and prices resume climbing or they keep falling.
A pessimist would say that these rates are unsustainable now.
For the time being, this blogger is still an optimist. On one condition. There is so little momentum in these disleveraging aggregates that the economy looks vulnerable to a shock  – an oil spike or China grabbing the handbrake or the RBA overdoing it – and disleveraging will become deleveraging, with a vengeance.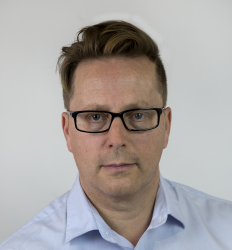 Latest posts by David Llewellyn-Smith
(see all)