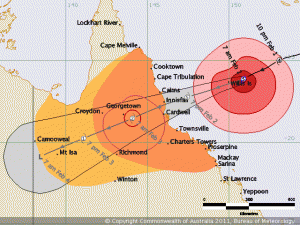 Cyclone Yasi has been upgraded to a Category 5 storm ( the highest level ) and on current estimates is expected to hit between Cairns and Innisfail at around 10pm tonight. The size of this storm is overwhelming, and the bureau of meteorology has announced that this is largest recorded storm ever to hit Queensland.
Weatherzone meteorologist Brett Dutschke said Cyclone Yasi was the largest cyclone he had ever observed in Australian waters on satellite images.

Overnight, Yasi was upgraded to a category five cyclone.

"The area that it's covering is massive and to see it so close to Australia, even 1000 kilometres away, is a bit haunting," Mr Dutschke said.

"It's definitely something I've not seen before."

And Yasi made Cyclone Tracy – the storm that destroyed Darwin in 1974 – pale in comparison.

"It's a huge contrast to Tracy. Tracy was a much smaller cyclone, a lot more compact and it just happened to pass directly over a major populated area," Mr Dutschke said.

"[Tracy] was a similar intensity to this one, but Yasi is much larger so it probably only has to get within a few hundred kilometres of a populated area and it could cause similar damage.
 The expected arrival time of Yasi is at high tide which will make the problems worse.
… the high tide, exacerbating the extremely dangerous storm surge it will cause. On a moderate tide, it was expected to be up to two metres in Cairns.

"This impact is likely to be more life-threatening than any experienced during recent generations," the Bureau of Meteorology said this morning.

Yasi, which currently has wind gusts at 295kmh at its core, is currently about 650km east-northeast of Cairns and 650km northeast of Townsville moving west-southwest at 30kmh.
This is how the Premier of Queensland described the situation this morning.
"We are facing an event that will be terrifying," she said.

She said a very large stretch of highly populated coastline was at risk.

She said there was still a very narrow window of opportunity for people in areas at risk of storm surges to move, and they must do so immediately.

Cyclonic winds will start from mid-morning and will become more extreme about 8pm or 9pm, Ms Bligh said.

"They'll be more than 280km an hour and last to lunchtime tomorrow," she said.

"Whether it's cyclonic, storm surge or torrential rain, we are facing an extreme event that won't be over in 24 hours but will take several days before the full flooding effect is felt across the region – potentially right through to Mount Isa."
There is an expectation that the area will receive a 2 metre storm surge and receive up to 700mm of rain. As I said yesterday all of the local dams are full so there is little place for all of that additional rain fall to go.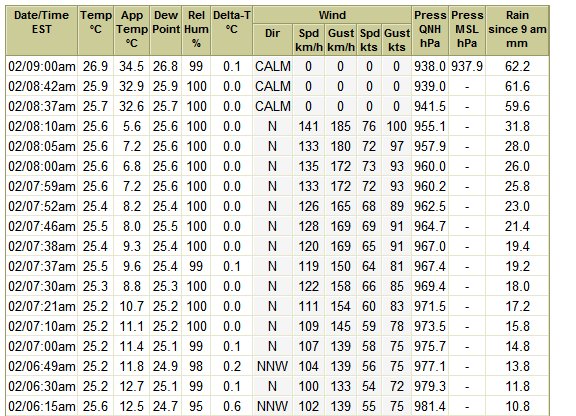 If the cyclone does hit as a category 5 I would expect to see significant structural damage as was witnessed in Cyclone Larry. The picture below is the damage sustained to the Innisfail high school in 2006.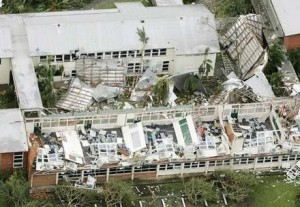 At this stage it is impossible to estimate the economic damage that this event will cause, but it will most certainly be a very significant event. Cyclone Larry was a relatively small cyclone that hit an area with a population of approximately 20,000. Even so, the estimated damage bill was approximately $1.5 billion. This cyclone is much larger in comparison and therefore will affect far more people and property. Cairns has a population of approximately 150,000 and there is the obvious flow-on effects to agriculture and economic production.