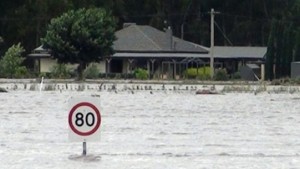 A cyclone the size of the Northern Territory is currently bearing down on North Queensland. The emergency broadcast system sent an SMS to every Queenslander last night and according to the Queensland Premier
Cyclone Yasi will hit the north Queensland coast with greater ferocity than devastating Cyclone Larry.

Thousands of residents, as well as patients at Cairns hospital, face the prospect of evacuations today as the huge storm front bears down.

Latest modelling indicates the cyclone has moved slightly north and is now due to cross the coast between Tully and Lucinda, about 140 kilometres north of Townsville.

Ms Bligh, speaking after a meeting of the state disaster management group this morning, said winds of more than 250kmh could be expected from the high category four system.

By comparison Larry, which caused $1.5 billion worth of damage to Innisfail and surrounds in 2006, was a mid-level category four system.

"This of course is not only a system now tracking as more intense than Cyclone Larry, it is significantly larger than Cyclone Larry," Ms Bligh told reporters.
It must be noted from an economic perspective that cyclone Larry hit Innisfail, a relatively small town. If the same cyclone had hit Townsville or Cairns the damage bill would have been considerably higher.  Cyclone Yasi is far greater in size and has the potential to do far more damage.  Apart from the initial damage caused by the destructive winds the cyclone also has the potential to cause significant flooding. All of the major dams in the area already at 100% + capacity which is something that has caused significant public concern recently.
I hope there is no further loss of life. But no matter what the eventual damage is , these natural disasters are going to have a on-going effect on the cost running a business and owning property in Queensland.
Household insurance premiums are likely to skyrocket this year because of natural disasters as tropical cyclone Yasi threatens even more damage in flood-ravaged Queensland.

Insurance premiums were already tipped to rise 8 per cent before the Queensland floods, according to a JPMorgan Deloitte survey released yesterday.

"We anticipate 2011 to be another year of extreme natural events given the La Nina pattern and resultant wet weather we have seen recently in Queensland, NSW and Victoria," said an insurance analyst at JPMorgan, Siddharth Parameswaran.

"The 8 per cent figure was taken before the floods, so one may think the number in 2011 would likely be higher," he said.
These insurance cost rises are on top of others that are already expected to be delivered by the insurance industry. Some of which are already having severe economic consequences in North Queensland. This from the Port Douglas Gazette last week.
Local Insurance premiums to rise by up to 350%

News of an unprecedented hike in insurance premiums by more than three and half times existing rates for strata title and body corporate entities in North Queensland has sent shock waves through the local property market.

Major insurer Zurich Financial services says the new premiums will apply for any strata premium renewal from the February 6 in a bid to minimise the exposure caused by a rapid accumulation in North Queensland residential strata business after the exit of other insurers.

John Carney said

"Its the worst possible news at the worst possible time for port."

"Strata properties in this town have already experienced drops of 20 to 50 percent, in some cases more than that, and returns have been so minimal for so long, it's quite disgraceful to think that this can be thrown at us now without justification."

"the town's in meltdown as it is, this is going turn us into a basket case"

Mr carney who owns the management rights of the 66 apartment complex Paradise Links said only last year, his body corporate premiums from $36,000 – $72,000.

Last year they doubled it, now they want to treble it – what business can absorb increases like that? I'd like to know" Mr Carney said.

He predicted it would force a "massive fire sale" by investors caught up in the most challenging markets conditions imaginable.

"There'll be even less return for those investors," he said. "They can't sell because there's no demand and even if there was, banks aren't lending, and they wont be able to afford to hold on so what else can they do?"
With all that water around you would have at least hoped for some supply side cost reprieves for water services. Ironically that is not the case.
Gold Coast residents have reacted with anger, disbelief and confusion as the promised pain of water price hikes materialised with the arrival of Allconnex bills in mailboxes across the city this week.

Residents who have contacted the Bulletin complained about using less water but getting charged more, while owners of vacant blocks with no running water have reacted angrily after receiving a bill for $424.20.

Broadbeach Waters retiree Linda McGill received a bill for $456, up by $153 on her previous bill but said she was having a hard time accepting the charge.
It seems that people will be paying far more for water than they expected no matter which way they receive it.