Mr A writes.
Do you think a bank should be doing this – encouraging and inflating the housing bubble?
As a "good" customer of theirs they gave me this little beauty when I logged online to check my account.

Welcome to An Investors Guide to the Nation, commissioned by St.George exclusively or you as a Gold Service customer.

This report looks at the performance of the Australian residential property market within each of the capital cities, breaking the market down into its broad regions: the inner, middle and outer rings.

Based on this analysis, RP Data provides insight about where property owners have fared best in terms of capital growth during recent years and which regions buyers should be targeting to maximise the potential of capital growth over the coming years.

The report includes a series of easy to understand tables and maps which highlight the results for each capital city on an annual basis across the past five years. The Appendix also includes detailed statistics for all suburbs within the capital cities including the median price, number of sales, distance from the city centre and growth rates for median prices.

The report is usually valued at $279, but we're delighted to offer it to you compliments of St.George. We hope you make the most of this unique opportunity
Wow !! So on top of attempting to claim that rent paid is a deposit for a loan, now St George is "suggestive selling" property McDonalds style.
Mr A is correct to ask "Do you think a bank should be doing this?" Our answer is No, it wreaks of desperation.
We will not bother you will the details of the attached report, if you have read one you have read them all. Noone has ever seen this chart before, have they ?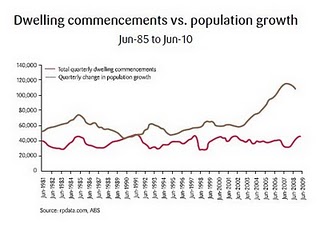 ---
Disclaimer: The content on this blog is the opinion of the author only and should not be taken as investment advice. All site content, including advertisements, shall not be construed as a recommendation, no matter how much it seems to make sense, to buy or sell any security or financial instrument, or to participate in any particular trading or investment strategy. The author has no position in any company or advertiser reference unless explicitly specified. Any action that you take as a result of information, analysis, or advertisement on this site is ultimately your responsibility. Consult someone who claims to have a qualification before making any investment decisions.