The news from the Gold Coast, the California of Australia, just keeps getting worse. Just days after we reported on the financial collapse of a massive apartment complex at Broadbeach the Australian is back dishing out the dirt.
A family blamed in part for the collapse of a top real estate agency has issued a plea to the chain's national chairman, Brian White.

They want him to investigate an alleged price-fixing scheme that affected the values of multi-million-dollar properties on the Gold Coast.

The collapse of Ray White Broadbeach, which was placed in receivership on Tuesday with debts of up to $5 million, follows a severe market downturn as well as a relentless campaign by aggrieved investors Rod Lambert and his wife, Lisa, who have made allegations of fraud that are under investigation.

The appointment of receivers to the leading agency has rung alarm bells across the property market on the Gold Coast, where beachfront values have plunged by as much as 50 per cent since the peak of the boom in 2008.
50%, that's even beyond "Keen" Territory. When the banks were handing out credit like it was candy the times were great.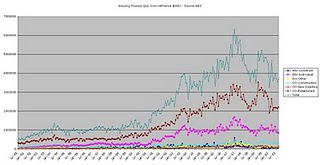 But this was completely unsustainable debt issuance, once it stopped the market began to decline. The First home buyers grant boost gave it a short term kick along, but now the party is over and it is time to pay the bill for it. Funnily enough "investors" who have lost money think it is everyone elses fault except their own.
He said Mr Lambert, a highly experienced real estate agent and developer, had become obsessed by his losses after buying a property at the top of the boom, and blamed the Ray White Group.

Mr White said of Mr Lambert's plea: "We are keen for independent investigations to reach their conclusion and we are ready to co-operate in any way we can."

Owners are sitting on multi-million-dollar losses as the property market continues to decline, if several highly unusual Mermaid Beach transactions investigated by The Weekend Australian earlier this year were to occur in greater numbers.

Mr Lambert, who has lost several million dollars, said he was waging a David and Goliath battle that would end only when Mr White acknowledged the culpability of people in one of his leading agencies. The agency's principal, Gary Gannon, and top agent, Michael Kollosche, have acknowledged that some of the transactions had unusual features, but have emphatically rejected being responsible.

Mr Lambert said yesterday: "We take no pleasure out of what is happening in the market, but we will not stop until there is acknowledgement and justice."
Justice ? Really; is that what this is about ? Not the money then ?
It is always amusing how these supposedly experienced, smart and prudent investors are never complaining while they think they are making money. It is only when the imaginery wealth disappears that it always becomes someone elses fault. We aren't saying that some of this wasn't in somepart an illegal process, but we do have to ask if Mr Lambert would have even cared if the GFC hadn't hit. If Mr Lambert had still been able to roll-over his "investment" to the next greater fool for more money would he be complaining about an illegal method of sale?
Not that this "blame everyone else when it all goes bad" behaviour is a new pattern.
---
Disclaimer: The content on this blog is the opinion of the author only and should not be taken as investment advice. All site content, including advertisements, shall not be construed as a recommendation, no matter how much it seems to make sense, to buy or sell any security or financial instrument, or to participate in any particular trading or investment strategy. The author has no position in any company or advertiser reference unless explicitly specified. Any action that you take as a result of information, analysis, or advertisement on this site is ultimately your responsibility. Consult someone who claims to have a qualification before making any investment decisions.