Good breakdown by Credit Suisse (via the Wall Street Journal) on where the US earnings growth is coming from: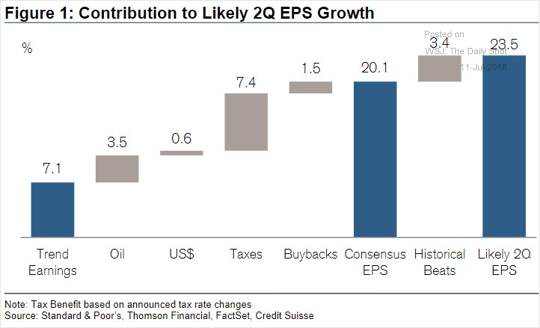 Oil is good for a small set of companies, bad for the rest. But unless the oil price falls the earnings growth will be repeated in 3Q and 4Q.
Taxes are one-off but set to continue for at least another 6 months. I'm expecting continued gains (albeit much smaller) for the next few years as companies work out how to game the new rules more effectively.
Buybacks are just accounting treatment, but with record buybacks likely to continue there is probably another year or so of above-average growth attributed to buybacks.
The US dollar effect will reverse a little in coming months.
It is late in the economic cycle, so you don't want to get too carried away with the positives.  But its hard to find too many negatives in US corporate profits for the next six months.
Damien Klassen is Head of Investments at the Macrobusiness Fund, which is powered by Nucleus Wealth.
The information on this blog contains general information and does not take into account your personal objectives, financial situation or needs. Past performance is not an indication of future performance. Damien Klassen is an authorised representative of Nucleus Wealth Management, a Corporate Authorised Representative of Integrity Private Wealth Pty Ltd, AFSL 436298.
Latest posts by Damien Klassen
(see all)