Front page of the AFR today: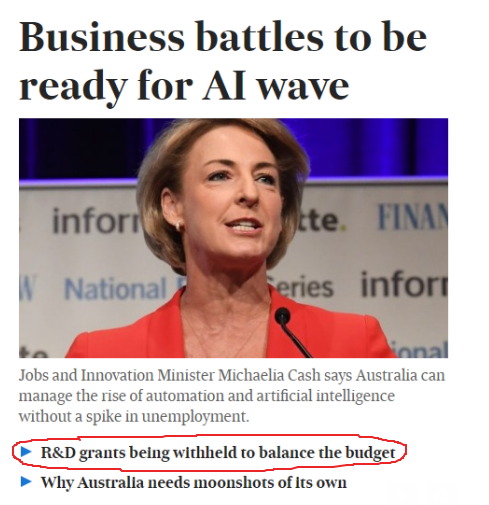 Sorry – no R&D grants because we need the money so that we can give tax cuts to companies so that they can spend more on R&D (disclaimer: more R&D will only occur if there is enough cash is left after paying higher dividends, performing more buybacks and awarding managers bigger bonuses).
I don't want to lose track of the fact that there is some good policy at the heart of this – i.e. changes in R&D grants to reduce payments to companies that were gaming the system:
The budget changes reduced the premium tax break for companies that spend less than 2 per cent of total expenditures on R&D to 4 per cent from 8.5 per cent, but increased it on a sliding scale to 12.5 per cent for "high intensity" companies that spend more than 10 per cent of expenditures on R&D.

…

The R&D review was part of the Turnbull government's wider innovation agenda designed to boost business R&D spending and commercialisation of research – which are low by global standards – to create another engine of economic growth.
But rather than take the money saved from the companies that were gaming the system and use it to generate more R&D, the government has banked the savings.
Net effect: the government's goal is to boost R&D spending, but they are going to spend less on R&D. No explanation of the disconnect was provided.
Latest posts by Damien Klassen
(see all)