A nice wrap from Chris Weston at IG:
As mentioned in previous reports a Le Pen win in the 23 April first round voting seems high given her current polling, but then she is likely to lose badly to the new favourite Macron in the run-off on 7 May. Even if she did win, electing a PM who is aligned with her views seems unlikely and this aspect may be a headwind when enacting on her more extreme policies. Still, the market will not like the prospect of Le Pen and FN in power and pricing risk becomes highly problimatic.

There was some focus on EFD (Agence Francaise de Development) pulling a $1b 3-year corporate bond offering recently due to "recent market volatility". But I am not so sure markets have really beome overly volatile for French corps to raise debt.
1)      EU stoxx 50 futures – implied volatility curve
Here, we can see the Eurostoxx 50  futures implied volatility curve. We can see (the orange line is the current curve) that implied volatility in the April contract has spiked to 24%, but it is no higher than it was a month ago (the green line is the volatility curve a month ago) and this actually flattens out (traders selling vol) in future contracts. Hardly a market that see's absolute choas in the months ahead.

(Source: Bloomberg)
2)      EUR/USD 3m implied volatility
We can see some signs vol is moving higher, with traders buying vol but with no real conviction, but let's revisit this when it breaks 14%. That will likely be a trigger for EUR bears to start really taking EUR/JPY to task.

3)      France/German 10-year yield spread (Orange line)
EUR CDS (candles)

Ok, we have seen the Frenace/German yield spread widening of late which a number of traders mentioned as to why they have sold EUR's, but worth pointing out that the Japanese funds sold Y232B of French bonds in December, so perhaps the fixed income market caught wind of that in January. Or maybe it is investors reducing or hedging exposure to French assets ahead of the elections.
We can also look at the EUR CDS market (the cost to insure against potential default on bond holdings) and see this hasn't really moved convincingly yet. Perhaps we will see it move higher, in which case I would expect EUR to sell off hard, but at the moment there is no real panic.
The wash-up is implied volatility has started to creep higher but not enough to truly worry markets more broadly. These measures will be firmly on the radar though in the weeks ahead.
EUR/JPY – In G10 FX this is the pair to watch if we genuinely feel a Le Pen victory will unfold. Price is rolling over and trending lower here. Probability suggests this pair heads lower in the short-term, although we can see buyers stepping in if we look at price action and for the pair to really trend we need to bid side to really dry up. Stops can be placed just above the January swing, which conveniently marries with the 5-day EMA which is headed firmly lower.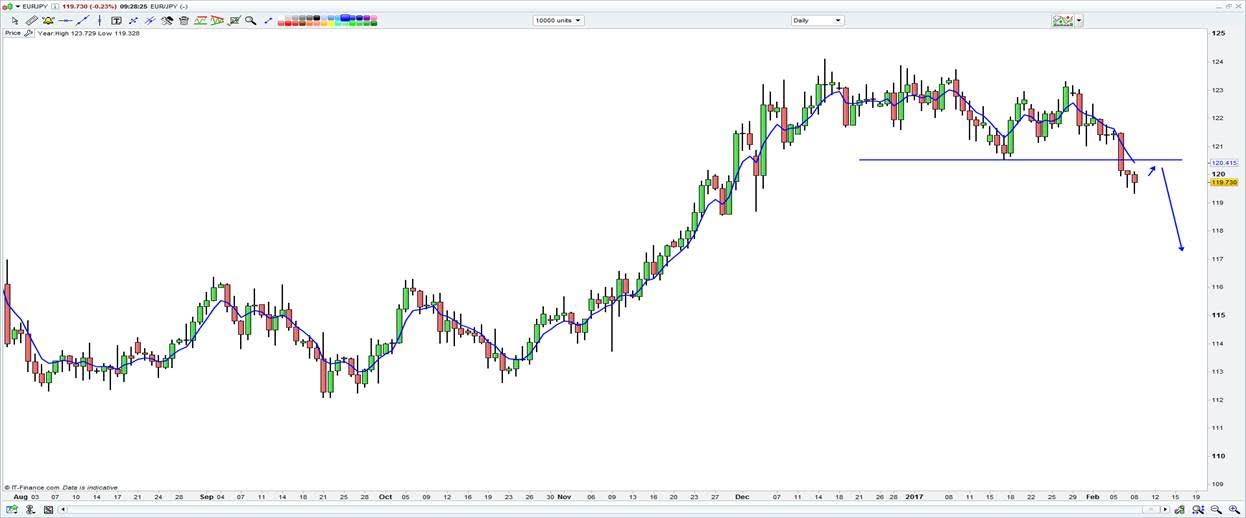 Here's a good wrap of Le Pen's main polices from Armstrong Economics. Of course, the main one for markets is the potential for a referendum on future EMU inclusion.
Le Pen's main points:
Referendum of EU Membership
Restore French franc
End Schengen area
End Refugee migration
Public contracts awarded only to French firms
International trade agreements are to be canceled.
The income tax for low-income earners is to be reduced by 10%
Small business are to be relieved of their wage costs.
The retirement age to be lowered to 60 from 62 years.
Child benefit regardless of income
Reduce gas and electricity costs by 5%
Maintenance of the 35-hour week.
Employers should pay a 10% tax on foreigners' wages.
Free education will be only for the French
Illegal immigrants are to be deprived of free health care.
Immigrants without papers have no chance of legal residence status.
Asylum can only be applied for in French consulates abroad.
French citizenship not to be based solely upon birth in France
Increase domestic police by 15,000
Build new prisons with space for 40,000 prisoners.
Condemned foreigners are immediately deported
All foreigners who are connected with Islamism under the supervision of the secret services.
All radical mosques are to be closed.
Withdrawal from the joint NATO.