The Economist mounts a defense of Chinese capex today. They start with a study from last year:
Western leaders often shake their heads in disbelief at the sums China spends on its huge projects. And some analysts question how much of it has been wisely spent. In a widely circulated study published last autumn, Atif Ansar of Oxford University's Saïd Business School and his co-authors say the world's "awe and envy" is misplaced. More than half of China's infrastructure projects have "destroyed economic value", they reckon. Their verdict is based on 65 road and rail projects backed by the Asian Development Bank (ADB) or the World Bank since the mid-1980s. Thanks to the banks' involvement, these projects are well documented.
The Economist then goes on to address the issues with some of the report's assumptions and picks a particular "failed" project from 1999 that since recovered, concluding:
The authors also assume that any traffic shortfall persists throughout its life. That is not always the case. Traffic on Yuan-Mo, for example, has rebounded, according to the road's operator. By 2015 it was 31% higher than the ADB projected back in 1999. Around last year's lunar new-year holiday the road handled record numbers. Some white elephants turn grey with age.
My point of contention is not about 18-year-old projects that eventually came good over a period where the Chinese economy averaged over 10% nominal GDP growth.
My contention is that China is spending more now than they did in 1999 on capex, and so much more of it is debt funded.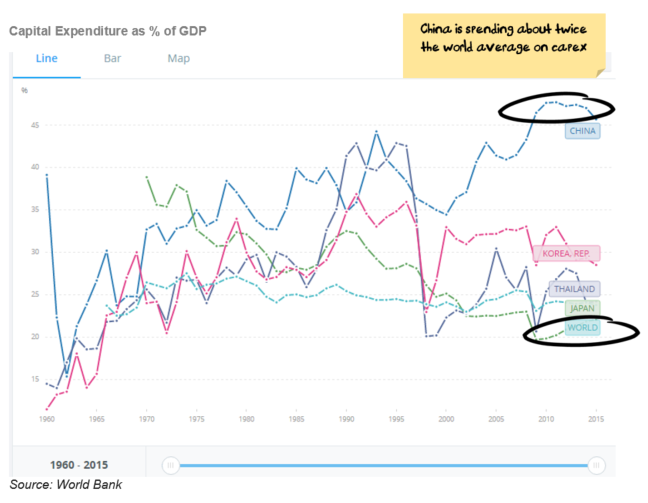 If China struggled to find beneficial projects in 1999 when they were spending "only" 35% of GDP on capex with sky-high GDP growth, what hope do today's projects have of being profitable with 45% of GDP being spent, more of it debt fueled, and GDP growth much lower?
Latest posts by Damien Klassen
(see all)