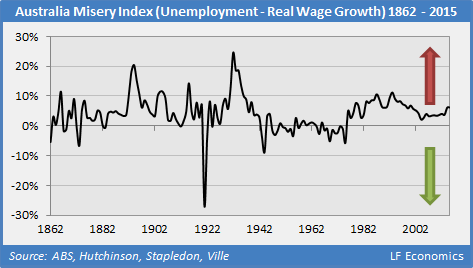 Arthur Okun sought to create an economic indicator to show how the average citizen is doing. He intuitively lumped together the unemployment rate and the inflation rate to create a "discomfort factor" –  a metric that made its first public appearance in the Wall Street Journal in 1971.
The higher the index, the worse off the Average Joe, who would face fewer employment prospects (higher unemployment) combined with rising prices (higher inflation).
Despite widespread criticism of what would later become known as the misery index, the general idea of looking at the combined economic forces of the labour market and consumer prices can capture the plight of the wage earner quite well.
In the spirit of Okun, Philip Soos has combined a number of datasets to look at the long term plight of the wage earner in Australia in the above graph.
Rather than simply add inflation to unemployment, the method here is to subtract real wage growth from unemployment, which takes into account inflation in the conversion of nominal to real wages. This gets more directly to the heart of the question about economic conditions for wage earners.
There is plenty to digest from the chart. The depressions in the 1890s and 1930s are clearly visible. The "golden age" of the post WWII period till the early 1970s is also clear. The oil shocks and economic transformation of the late 1970s and early 1980s are there, along with a blip for the 1990s recession and a long recovery in the 2000s.
I suspect the one reason that is it difficult for Australia's elite to see that challenges facing wage earners is that most of them gain a lot of income from owning assets, such as shares and real estate. An assessment of the economic situation of asset owners would be quite different to that of wage earners who don't get the free ride of rising asset prices.
The wage earners vs asset owners also has a generational structure to it, with many young would-be homeowners facing relatively tough conditions on the wages front. The group I really feel for are those whose baby-boomer parents never owned their own home, that is, second and later generations of renters. Their baby-boomer parents get no freebies from the housing boom and will rely on public pensions for their retirement, and they will have very little inheritance. At least some youngsters priced out of housing may inherit a home in the future.
In terms of the next few years, I see a rise in Soos' misery index as a result of low real wage growth and an uptick in unemployment when the apartment construction boom unwinds in 2017. What this means in our tumultuous political environment I don't know, but certainly many people in a tough economic situation will be looking to blame someone for their plight. Any politician who wants to claim that wage earners "have never had it better", will be punished.
Latest posts by Cameron Murray
(see all)