Chris Weston, Chief Market Strategist at IG Markets
Considering as markets are of the belief that Greece is likely to receive confirmation of its loan extension today, there doesn't seem to be much in the way of euphoric trading.
Germany is ruling the show and still needs to sign off on the proposal, but from all accounts the fact there is a special meeting to be held during the European afternoon (14:00 GMT) suggests that we should get something meaty for markets to sink their teeth into.
The European debt crisis has taught us to expect an eleventh hour deal every time and this is clearly seen in the lack of concern in the Eurostoxx index, the EUR and peripheral bonds. This does concern me, as there is always the chance that Greece backtracks or Germany walks away on a technicality in the wording; from a trading perspective there is always the risk of a 'buy the rumour, sell the fact' type event playing out.
If we do witness a deal, the market will want to see the complete picture and assess just how united the Monetary Union stands, or whether there is glaring fragility. From here they can assess the likelihood of Greece dominating in the headlines again in the coming months. It seems logical that we will be debating Greece for some time. Unless the structure of the original bailout is amended so we see lower interest rates and lengthening of maturities, with Germany agreeing to allow Greece run a primary surplus of 1.5% of GDP, then we are going to see this story come into traders' mind-sets on a much more regular basis. Unfortunately this seems the likely path and the Germans know it, so while they have been getting the negative press that fact is they are the realists here.
EUR/USD a sell into $1.1500
It's interesting then that our European equity calls are for a lower open, while Asia-based traders have not really been enthused either way, with EUR/USD still a sell between $1.1400 to $1.1450. EUR/AUD is interesting as both currencies are seen as having major vulnerabilities, however the pair has traded in a 23 point range today and on the daily chart and is tracking sideways. With this in mind, traders could look to trade in a range of A$ 1.4742 to A$1.4484, although a break of A$1.4484 would suggest more aggressive short positions. With a number of domestic concerns it's amazing how the AUD is rallying against any currency.
Talk of Australia losing its AAA sovereign rating has been in focus, but for this materialise one has to take a view on Australia's debt-to-GDP ratio. It seems as long as this percentage is below 30% then the rating remains safe, but this could be Australia's effective 'Grexit' moment, whereby we simply don't know what the implications mean for markets. Naturally we would see a strong move higher in bond yields, with foreign money exiting with ferocity, while the loss of confidence from businesses would cause equities to fall heavily. It would also provide the opposition with so much ammunition that it is hard to not see a change of government, although if Labor is governing then naturally they would argue that they inherited an irreversible situation.
The fate of Australia's credit rating in the hands of politicians
It is important to understand that the fate of this most converted rating lies in the hands of Australia's politicians, who will need to manage the fiscal position of the country with greater skill. Terms of trade (and subsequently revenue) will not only be impacted by Australia's resource price makers, but also how China fares. From what we are seeing in some of the Chinese private sector surveys, it is not as pretty as the official numbers suggest. A 6 handle on China's growth beckons.
Back to the present and it seems the currency market is lacking some direction, although this should change next week with Janet Yellen's testimony. The same could be said for the ASX 200, although the trend seen since the 16 January is looking tired and showing signs of topping out and in danger of rolling over.
There aren't any glaring short signals (on the daily chart) yet, but the earnings that are coming out don't justify a move through 6000 either. Market internals are stretched as well, with 84% of companies now above their 50-day moving average. The 'value' trade is to buy the index closer to 5740 (trend support drawn from the February 2014 low), which also coincides with the 20-day moving average. Bull markets need pullbacks so that new capital can enter, so a pullback after the recent run should be seen as a positive development.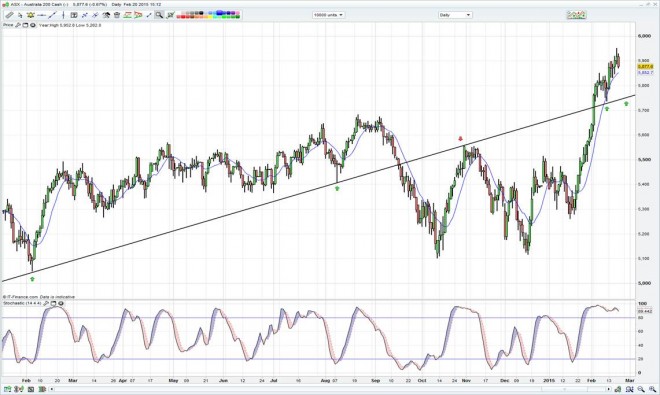 Many are asking if we have turned a corner from the period of high volatility and in for a longer period of consolidation and lower volatility. Perhaps it just feels less volatile as we have become accustomed to greater volatility and expansive intra-day ranges and have adjusted strategies to match. Next week seems pivotal for volatility, which in turn will shape all parts of the financial markets and the strategies that market players express, so expectations around future Federal Reserve policy and Greece's future in the Monetary Union should make next week quite a binary event with regards to volatility.