Stan Shamu for Chris Weston, Chief Market Strategist at IG Markets
Greece back in focus as leaders meet
Asia hasn't quite managed to maintain the momentum seen in European and US markets. Some of the optimism from yesterday's disappointing China CPI reading seems to have swiftly waned with investors perhaps coming to terms with the fact this does not necessarily mean stimulus is on the way. Chinese CPI hit a 5-year low yesterday and this was hardly surprising given domestic demand was weak and of course the impact that lower energy prices are having globally. In fact, transportation prices were the main drag on inflation after contracting 2.2%. The main thing here though is that the People's Bank of China has traditionally targeted growth and not necessarily inflation. However, this provides room for movement should the PBoC need to act. As a result, it may be optimistic to hope that the PBoC will deploy stimulus imminently when the government is yet to set its growth target and with Chinese New Year on the way. This is probably why we've seen equities retreat in China today after yesterday's gains and why commodities remain fairly subdued.
Emergency meeting to take place
We are also approaching a very interesting time for Europe with the timetable for the Greece situation ramping up. An emergency meeting will be held by euro finance ministers and the headlines out of this meeting will dictate the price action for global markets. So far, it seems optimism around the meeting has already managed to inspire some buying, with our current calls for the major European bourses suggesting we'll see a firmer open. At the moment, it seems European leaders and Greece are willing to meet each other in the middle and this has comforted investors' concerns after the aggressive tone by Greek Prime Minister Tsipras over the weekend. However, some key officials have attempted to pour water on suggestions a plan for Greece was close. This includes German Finance Minister Schaeuble who suggested there is little room for negotiation. Leaders will be concerned about the precedence this will set for other 'irresponsible' nations. Whilst equities and bonds have been choppy in Europe, particularly Greece, the euro itself hasn't done much at all and continues to hold onto the 1.1300 mark ahead of the emergency meeting. The developments from the meeting are likely to be a binary event for the euro and we could see either the $1.1300 level finally give way or the downtrend which has been in place since December could be broken leading to a reversal. Apart from the emergency meeting, there is nothing else significant on the European calendar.
(EUR/USD downtrend)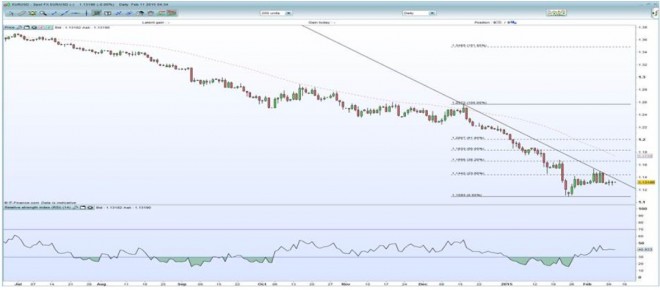 CBA delivers a record result
The ASX 200 has continued its losing streak today and we've seen the losses accelerate through the session. There are a number of things at play here, including earnings, some domestic data and regional forces. Earnings ramped up today with CBA predictably the headline after positing another record result. CBA's cash profit of $4.62 billion topped estimates helped by falling bad debt charges and expenses. However, some feel the $1.98 a share dividend was a bit disappointing. Regardless, the results weren't enough to keep the bank's rally going and it experienced a bit of profit taking as a result. This put pressure on other banks as well and saw the financials dip into negative territory. A disappointing result from CSL also weighed on the healthcare sector which has been a significant outperformer lately. With resources stocks also struggling across materials and energy, then the ASX just fell on its own weight. There were also a couple of economic releases today with Westpac consumer sentiment and home loans data impressing. This was partly attributed to lower energy costs and the interest rate cut. Perhaps some in the market would have felt this reduces the probability of further imminent cuts.