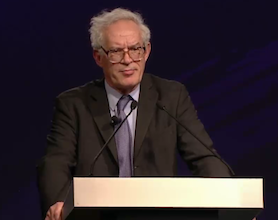 Find below a one hour and 20 minutes keynote from the weekend's Institute of New Economic thinking in Hong Kong. The subject of the keynote is central banking in the modern era covering many topics that will be of interest to MacroBusiness readers including fiscal-monetary co-ordination, QE, balance-sheet recession dynamics, macro-prudential regulation, the effect of Basel III on bank deleveraging and lending, and exit strategies.
The panel is a smorgasbord of Central Banks heavy weights including Charles Goodhart, Richard Koo, Liu Minkang and Adam Posen.
It's a long presentation but well worth the effort if you can find the time.