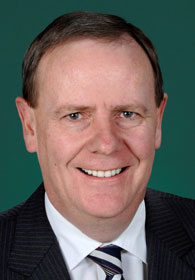 Fairfax is reporting that a complaint was made to the Crime and Misconduct Commission (CMC) on January 24 this year about a potential conflict of interest by Peter Costello during his role as an 'independent' Commissioner  for the recent Queensland Commission of Audit.
An executive summary of the Audit report was released last week, and not surprisingly it suggested that extensive privatisation of public services is necessary to reduce Queensland's public debt.  This is despite the rather basic fact that the sale of equity to pay off debt usually reduces cash-flows in profit-making businesses and could make the interest cost of debt worse for the government.
As I wrote last week, this is Propaganda 101 by the incoming government looking to stamp its ideology, rather than its election promises, on Queensland while it has a large majority. As Professor John Quiggin notes:
Although the Costello Commission is often presented as if it's something new, appointing a Commission of Audit has been routine piece of political theatre for incoming conservative governments since the early 1990s. The recommendations almost invariably involve spending cuts, and usually asset sales.
Now it seems that Costello's independence is in question, having played an intricate role in Queensland's political process through his positions as a lobbyist and relationships with party insiders.  As Fairfax reports, Costello owns one third of ECG Advisory Solutions, a lobby group formed by Mr Costello with two of his former parliamentary staff members, David Gazard and Jonathan Epstein, in August 2011. You can see the list of clients they represent at the Australian Lobbyist Register.
Major recommendations of the report included privatising electricity and ports infrastructure.  ECG clients include SP Austnet, which manages private electricity generation and Dubai Ports, which runs private port operations.  Other clients are Primary Health Care Limited, who specialise in private provision of medical services, and TransUrban, who specialise in private transport infrastructure.
It is now up to the CMC to determine whether to pursue the allegations over the conflict of interest between Costello's roles as 'independent' Commissioner and lobbyist for clients who are all likely to gain immensely from the recommendations of his Audit report.  With its budget cuts from last year, and a full plate with other controversial conduct by new Ministers, who knows how the CMC may proceed.
Please share this article.  Tips, suggestions, comments and requests to [email protected] + follow me on Twitter @rumplestatskin
Latest posts by Rumplestatskin
(see all)