The Cyprus show continued overnight with on going talks with Russia:
Cyprus and Russia are discussing cooperation in the banking and energy sectors in addition to a loan, and any deal to solve the island's debt crisis should also be in Moscow's interests, the Cypriot finance minister said on Thursday.

"There's a lot of teams now working on a number of issues. Banks, natural gas, are there opportunities (on which) we can base some cooperation and some support from Russia," Finance Minister Michael Sarris told reporters in Moscow.

"We've asked for help clearly, but something that would make also economic sense for Russia."

Sarris was holding a second day of talks with Russian officials after the Cypriot parliament on Tuesday threw out a proposal to tax bank deposits in return for a 10-billion-euro bailout from the European Union.

With banks on the Mediterranean island shut all week, the Cypriot government could be ready to put assets up as security for a 5 billion euro Russian loan that would avoid the levy on depositors, many of whom are Russian.
With those talks ongoing the Cypriot President has promised to deliver "Plan B" to parliament in the coming 24 hours:

President Nicos Anastasiades is to "present a Plan B package to party leaders tomorrow at the presidential palace," state television reported Wednesday, after he chaired an emergency cabinet meeting called to weigh the alternative plan.

"A decision on a Cyprus rescue must be made on Thursday at the latest," the official CNA news agency quoted Anastasiades as saying as he left the palace on Wednesday night.
Supposedly Plan B doesn't include a bank levy,  but does include the restructuring and sale of the big banks. Reportedly it also includes a €4.2 billion transfer of pension-fund asset which to me sounds more like a paper shuffle than anything legitimate and is likely to be rejected by the Troika of being of genuine value. The deal will also include whatever Cyprus is trying to negotiate with the Russians which is obviously tied to natural gas reserves, but at this stage it is still just talk. The Church of Cyprus has also stated that it will contribute to a bailout fund with the sale of assets.
All up it doesn't appear to be a particularly solid plan, and with Europe refusing to budge on its part the game of chicken is getting more serious by the hour.
I stated a couple of times this week that I expected action from the ECB to come shortly as they have a history of tightening the screws at times like these. They certainly didn't disappoint on Cyprus:
21 March 2013 – Governing Council decision on Emergency Liquidity Assistance requested by the Central Bank of Cyprus

The Governing Council of the European Central Bank decided to maintain the current level of Emergency Liquidity Assistance (ELA) until Monday, 25 March 2013.

Thereafter, Emergency Liquidity Assistance (ELA) could only be considered if an EU/IMF programme is in place that would ensure the solvency of the concerned banks.
Call it blackmail or prudent collateral maintenance, it really doesn't matter the outcome is the same. If there isn't a deal by Monday the Cypriot banking system will have no access to the ECB discount window and that's all folks.
Obviously more to come on this story.
In the meantime it was another round of Flash PMI data from the Eurozone overnight and, once again, it stank. The French PMI came in at a four year low and the forward looking data looks worse than ever. This very dour commentary from Markit Economics' chief economist:
The latest Flash PMI data spell further bad news for the French economy, with the downturn in output accelerating to the sharpest in four years. Again it's difficult to find any crumbs of comfort among the data, with new orders and backlogs both declining at sharper rates and employment cuts continuing. Moreover, future expectations in the service sector slumped to the lowest level since the peak of the financial crisis in late-2008, underlining the extent of companies' worries over a persistently bleak economic climate
If you've been reading my posts for any length of time you shouldn't be too surprised by that outcome. Germany was obviously better than France, but it was  a big miss on expectations and manufacturing output actually contracted as growth slowed rapidly in all sectors in March.
The overall Eurozone PMI was woeful with sharper contractions across all sectors and a rolling over of earlier improvements. Of note were the future looking business expectation and new orders readings which were down again: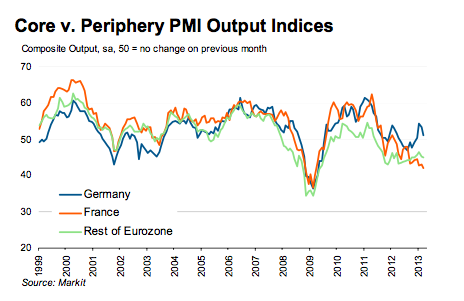 Again from Markit:
The flash PMI data suggest that the Eurozone business environment deteriorated at a quickening rate in March. While the data are consistent with the pace of economic decline easing in the first quarter from the 0.6% contraction seen in the final quarter of last year – perhaps showing a 0.3% decline – the concern is that the downturn has gathered pace again.

Instead of the eurozone economy stabilising in the second quarter, as many – including the ECB – have been hoping to see, the downturn could therefore intensify in coming months.

The deteriorating situation in Cyprus also raises the prospect of business and consumer confidence falling further across the single currency area, and possibly dragging the PMI numbers down further in April.

France saw the steepest downturn in business activity since March 2009, rounding off the worst quarter for four years, while Germany looks set to have enjoyed reasonable if unspectacular growth. However, even Germany showed worrying signs of growth fading in March, driven by a return to contraction of its manufacturing sector."
Back in January I had this to say about 2013 in Europe:
This year we will see renewed fiscal tightening in Spain, Portugal, Italy and France which is again likely to dampen growth. We also have major elections in both Italy and Germany which have the potential to change the political landscape, while the on-going question of what to do about Cyprus and further increases in unemployment creates the potential for "black cygnet" events.
So far so good.