Over the weekend, China's National Bureau of Statistics' released its own leading indicator, which rose in October, the fourth consecutive month of increase, albeit at a much slower pace.
October's leading index rose to 100.42. However, the September number has been revised downward from 100.49 to 100.36. The increase of the index for October is much slower than September, suggesting a good probability of a continued pick-up in economic activities in the final quarter of 2012, although momentum has slowed: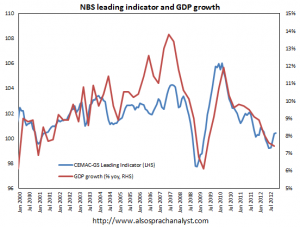 Confirming the modest bounce, the official PMI for November was also released, hitting a 7-month high in November.
Headline manufacturing PMI rose to 50.6, a 7-month high, slightly lower than the consensus estimate of 50.8. New orders rose from 50.4 to 51.2, and finished goods inventory rose from 48.4 to 48.8, thus new orders less inventory measure rose slightly from 2.3 to 2.4. New export orders climbed above 50 to 50.2 for the first time since May.
Meanwhile, the employment index fell to 48.7, the lowest level since January this year, while input price fell from 54.3 to 50.1.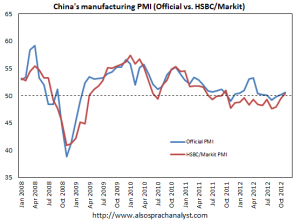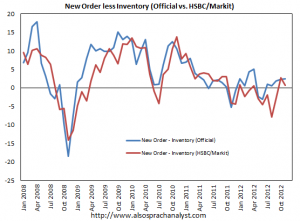 Despite improvements, the headline number as well as new export orders remain weak relative to the same times of previous years, with the exception of 2008 and last year. Notable weakness in employment is also apparent.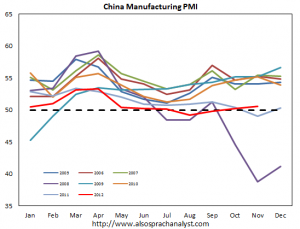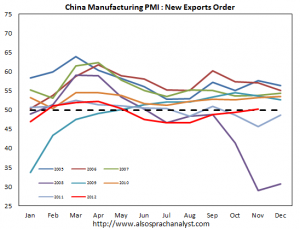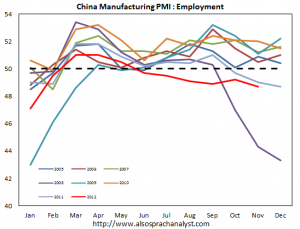 Despite improvement in the headline numbers and most sub-indices, the "recovery" of the economy does not appear to be strong, especially considering that this time of the year is usually the strongest months for manufacturing.