Courtesy of Also Sprach Analyst.
As we know, China's official manufacturing PMI climbed back above 50 in September after two months of sub-50 reading, suggesting a return to slow expansion.
Headline PMI increased from 49.8 to 50.2, in-line with market expectation.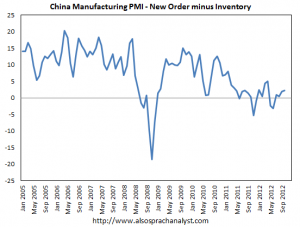 Looking into sub-indices, new orders climbed back above 50 to 50.4, the first reading above 50 since April (although back then, it was 54.5), while new export orders increased from 48.8 to 49.3, suggesting a contraction in export orders at a slower pace. Meanwhile, finished goods inventory climbed from 47.9 to 48.1, suggesting that the pace of destocking has slowed down. This brings the new orders minus inventory to 2.3, highest since April.
Meanwhile, output price continues to increase, from 51 to 54.3, suggesting an increase of raw material prices.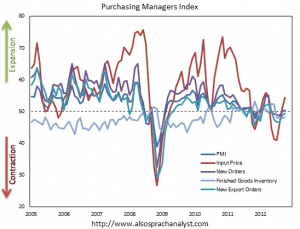 Although the headline PMI suggests a return to expansion, note that official PMI has a seasonality problem. The chart below shows the PMI time series by years. Although October was not historically a great month compared with September as far as manufacturing PMI is concerned, official PMI tends to trend higher towards the end of the year. The current reading of 50.2 is the weakest October reading since record began, with the exception of 2008 as the financial crisis hit.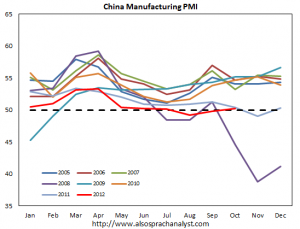 There are signs of improvements in this PMI report, not only at the headline level, but also at individual components. This is consistent with the consensus view that economic activity should pick up somewhat during the fourth quarter. However, I remain less sanguine about the strength of this round of improvement and for how long this can last. If anything, despite the headline PMI suggesting that manufacturing sector is now in expansion, 50.2 remains to be a weak number, and it is not clear as to how much of the improvements are down to seasonality.