Yet another night of dour European data::
The unemployment rate in the 17-nation euro zone rose to 11.6% in September, the European Union statistics agency Eurostat reported Wednesday, topping the previous record of 11.5% seen in August. The total number of unemployed rose by 146,000 to 18.49 million. Economists surveyed by Dow Jones Newswires had forecast a rate of 11.5%. Southern Europe continues to suffer the worst, with the unemployment rates in Spain and Greece both topping 25%. Youth unemployment across the euro zone also rose, hitting 23.3% in September from 23%.
And here is the full report from EuroStat.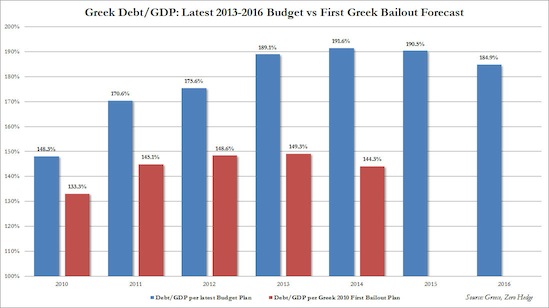 Obviously, given history, it is not hard to be cynical about these latest figures even though they are worse than expected. I've stated previously that there really is not point providing more funding to Greece. If for political reasons the country is destined to stay in the Euro then what is needed is a further substantial debt write-down. That, however, may not stop the EU bureaucracy from once again repeating their failed plans.
In the lead up to an election year Angela Merkel is very unlikely to want her country's taxpayers to realise actual losses, and the most likely outcome is for a program extension at additional cost. There does, however, appear to be growing opposition within the Bundestag to providing any more aid and this latest budget update certainly will not help.
Greece is slowly, but painfully, passing laws as requested by the Troika in order to meet its requirements under the  program, but we will still have to wait for the final Troika report before we get an official decision from EU leaders on what happens next.
And finally, in case all of that wasn't bad enough,  here is the report on Spanish GDP for Q3. Again poor.