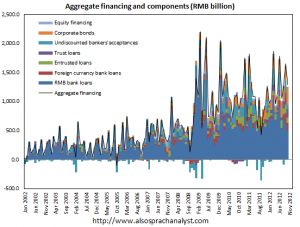 The People's Bank of China has published aggregate financing figures for October. Net new aggregate financing for the month of October amounted to RMB1.29 trillion, down from RMB1.65 trillion in September.
Most components of aggregate financing fell in October compared with September with the exception of corporate bond issuance, which increased from RMB227.8 billion in September to RMB299.2 billion.
Of particular interest, net new loans amounted to RMB505.2 billion, down from RMB623.2 billion, and much lower than consensus estimate of about RMB600 billion.
M2 money supply rose 14.1% compared with a year ago, down from 14.8% yoy in September, and below market estimates.
Net new lending to households for the month amounted to RMB145.6 billion, while net new lending to non-financial corporations amounted to RMB358.6 billion. Of RMB358.6 billion net new lending to non-financial corporations, RMB249.7 billion was short-term loans, RMB168.5 billion was medium and long-term loans, while bill financing fell for the second consecutive month by RMB73.2 billion.
Meanwhile, Chinese yuan total deposits fell RMB279.9 billion in October.
The monetary statistics for October came in weaker than expected. Even taking the aggregate financing report together, the only component which looks positive appears to be corporate bond issuance.