One of the most important fundamental reasons why Chinese equities under-performed for the last year or two has been the fact that Chinese companies are seeing falling profits despite seemingly "strong" economic growth.
While GDP growth has only slowed to 7.4% year on year in the third quarter, corporate earnings have been recording negative growth on a year-on-year basis since late last year, and the slowdown is particularly severe for non-financial companies (and there will be arguments to be made as to how real Chinese banks profits really are).
This was true for the second quarter, and remained so for the third quarter as well. The chart below from Credit Suisse shows year-on-year earnings growth for A-share (onshore market). As you can see, they have been recording negative growth of quarterly profits since the fourth quarter of last year.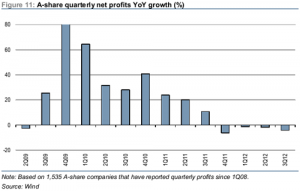 If one excludes profits for financial companies, however, the decline in profits in this round of economic slowdown look more severe despite GDP growth above 7% and sales growth remained in positive territory (although it has been slowed as well), as the chart below shows: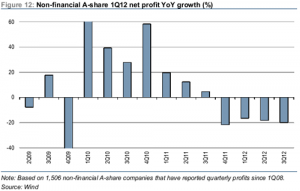 The question for forward-looking investors, of course, is whether the period of falling corporate profits is now over. While there are some fundamental reasons why I am sceptical on the recovery of corporate profit over the long and medium term, the chart below offers some fodder for optimism, which shows that the stock market bottomed 6 months ahead of forward earnings forecast: