A few weeks ago, China's projects approval spree triggered a lot of excitement. But we soon found out that it is uncommon for the NDRC to approve large numbers of projects within a period of a day or two. In fact, the spree happens every month.
The chart below shows a more accurate picture of the pace of NDRC project approvals,  from Wei Yao of Société Générale.  For the month of September so far, there does not appear to be any real acceleration of project approvals in terms of number of projects compared with the previous months: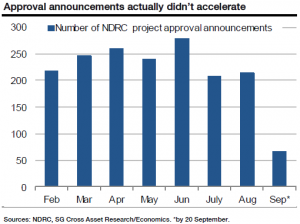 Perhaps not surprisingly then, Yuan Gangming, an economist at the Chinese Academy of Social Sciences, told Bloomberg that the slowdown will persist, and growth could fall below 7% yoy in the first quarter of 2013. From Bloomberg:
China's economic slowdown may last longer than during the global financial crisis because of worsening external demand and limited lending to smaller companies, a state researcher said.

Growth may slow for a ninth straight period to below 7 percent in the first quarter, Yuan Gangming, an economist with the Chinese Academy of Social Sciences, said in an interview Sept. 19 in Beijing. Yuan, who formerly headed CASS's Office of Macroeconomic Research in the Institute of Economics, forecast 7.4 percent expansion in the third quarter and 7.2 percent in the last period of the year.
The good news, however, is that he thinks it cannot get any worse from that point, and the new leadership will start turning things around:
"The slowdown will definitely extend into the first quarter of next year," said Yuan, 58, who advises the government without being directly involved in policy making. "That will provide a good starting point for the new generation of leadership to make a turnaround, because things can't get worse."
Much the same message was delivered by Song Guoqing, a PBOC advisor and Monetary Policy Committee member, over the past few days, also from Bloomberg. He says that growth will slow further to 7.3-7.4% in the third quarter, and 7-7.5% in the first half of next year, and he saw little signs of rebound.
Over the weekend, he also said in a conference that monetary conditions may probably remain tight on cautious banks lending and weak fiscal spending.  Perhaps most notably, he recognises that there are a lot of criticisms of China's economic policies, particularly the consequences of high inflation and over-investment and the possibility of increase of fiscal spending in the near-term is low (via Wind).
This is nothing new to readers, as I've noted that economists and commentators within China are more "pro-austerity" than those outside, and as I think that such views are shared by some policymakers, I have been expecting a slow reaction vis-a-vis the slowdown.  Although many believe that this is "policy paralysis" and has something to do with the fact that China's leadership will soon be in transition, I doubt that the new leadership will change course drastically.