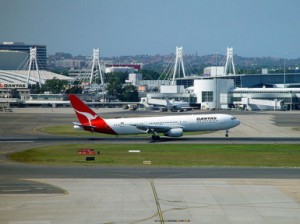 The Sydney Airport share price has comfortably outperformed the ASX 100 since third quarter 09, despite its sharp drop in the price
earlier this year. The company has released its June traffic results. Domestic traffic was up 4% on pcp (ytd -0.2%), while international
traffic was up 10.6% (ytd +5.3). Brokers are cautiously re-entering the fray, although sentiment is at best muted. Macquarie has a neutral recommendation and a price target of $3.22:
The domestic capacity war between QANTAS and Virgin will have very few winners, except SYD. Domestic traffic growth turned positive for the first time since May 2011 as the weight of Tiger Airways shedding capacity has run its course. The capacity increases implied from the scheduling data are showing strong growth into the middle of CY13. This is backed up by the entry of Tiger, which should ramp up quickly into September, making for a strong Q3 and Q4 CY12.
Macquarie says the best sign for investors is the increasing cash coverage of the dividend, which it is forecasting at 6.8%. JP MOrgan
likes the dividend, but not the valuation metrics:
Although we have revised up our EPS and DPS out to CY14F, we think SYD remains expensive on valuation metrics other than on a DYld basis. For funds chasing yield SYD is attractive but we continue to highlight that there are medium term risks which underlie our conservative view. We retain our relative underweight call in preference for AIX and TCL.
Goldman has a neutral recommendation and estimate a 12month total return of 6.3% comprising -0.7% capital loss and a 7% dividend yield. J.P.Morgan is underweight with a $3.06 price target.
The dividend yield may protect on the downside, but prospects for capital gains look pretty thin.